world's first 3D-printed air diffusion system
University Technology Sydney (UTS) and BVN Architecture have won the Green Building Material/Product Award at the recent Australian Sustainability Awards (2023). It is the world's first 3D-printed air diffusion system (SR2 – Systems Reef 2), designed to reduce the carbon footprint of commercial buildings.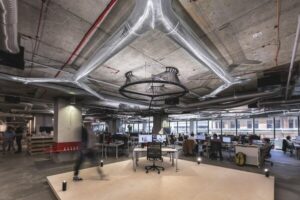 A SR2 prototype is currently installed in the BVN Sydney office.Photo supplied
Many buildings currently use traditional air distribution systems which have not seen significant innovations over the last one hundred years. These systems are not tailored to each space, and they cannot be reconfigured to adapt to the changing ways we work or live.
UTS and BVN redesigned air diffusion from the ground up – inspired by nature. Eschewing traditional methods of design and manufacture, the team built a system that mimics the respiratory system of frogs; SR2 uses an aerodynamic design with fine pores to 'mist' cool air rather than dump it into one spot. With a circular economy approach, UTS and BVN chose recycled PETG plastic so that SR2 was fully recyclable at the end of its life.
Tim Schork, chief investigator and Adjunct Professor at the UTS School of Architecture said "The building industry is one of the highest contributors to global waste, one of the biggest consumers of energy and materials and has some of the most significant contributions to CO2 emissions."
UTS and BVN designed SR2  for the purpose of retrofitting existing building stock with outdated air distribution systems that use significant amounts of electricity. Now patented, SR2 is one step closer to market-readiness.
"Compared to Australia, there are even more buildings globally whose air diffusion systems need to be renewed. It'd be great to see SR2 implemented in other parts of the world," Tim noted. "SR2 can be installed in any office environment, but is not just for these spaces. It can be installed in supermarkets, hotels, commercial stores, and homes where there are many existing air duct systems that can be replaced," Tim added.