WomenTech Global Conference 2022 June 7-10
Innovation Hong Kong is pleased to be a partner of the Women in Tech Global Conference 2022-WTGC2022.
The theme for this year's conference- which is now in its third year- looks at Technology Leadership, Tech Innovation, Career Growth, and how we can make an impact and shape the future together.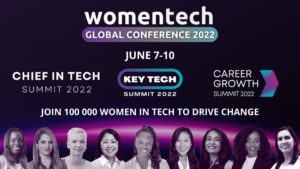 The WomenTech Global Conference is a mission-driven program by WomenTech Network and the Coding Girls Foundation, a non-profit organization dedicated to enabling women's empowerment in tech through leadership development, professional growth, mentorship, and networking events.WomenTech Network is one of the world's largest communities for women in tech with more than 60,000 members representing 172 countries.
WTGC2022 will feature tech professionals, industry innovators, and  more than 500 speakers from all over the world. Some of the speakers are the most accomplished women in tech, including technologists and leaders from companies like Amazon, Google, HP, Meta, Microsoft, IBM, and many more.
Speakers
Some of the key speakers are
⭐ Sharon Mandell, SVP and CIO, Juniper Networks
⭐ Wendy M Pfeiffer, SVP and CIO, Nutanix
⭐ Graciela Perez, VP, Chief Program Officer, GE
⭐ Wendi Whitmore, SVP of Unit 42 at Palo Alto Networks
⭐ Helen Hai, Head of Binance Charity and NFT
⭐ Elaine Zhou, CTO, Change.org
⭐ Kate Maxwell, CTO, Worldwide Defense & Intelligence
The conference will have three virtual summits as follows:
Chief in Tech Summit, June 7 
This summit brings together senior tech leaders, VPs and C-level execs in technology driven companies to address today's biggest challenges and shape the future.
Some of the tracks/topics include:
leadership & company culture
management & digital transformation
founders in tech & entrepreneurship
navigating the C-Suite as a working mother
moving beyond the C-Suite, life after the C-Suite
society, sustainability and impact
survive & thrive during challenging times
Key Tech Summit, June 8
Technology of Tomorrow. This summit invites tech leaders, engineers, product managers, women, minorities, allies working in tech driven businesses to exchange experience in latest tech trends, learn new skills and network with peers.
Some of the tracks/topics include:
software engineering and web development
cloud technologies
scaling tech
open source
customer experience
AI automation & data science
emerging tech
cybersecurity
hardware & robotics
marketing & analytics
Career Growth Summit, June 9
This summit focuses on professional development and advancement and navigating your way to a dream career.
Some of the tracks/topics include:
personal branding
future of work
mentorship, sponsorship & allyship, peopleskills
work from home
break into tech
well being & mental health
digital nomads
Women Tech Global Impact Summit, June 10
This will be hybrid featuring in person locations in the US/Canada and Europe and will require a separate invitation – further details to be released soon.
Members of Innovators Club Asia can enjoy a further 20% discount on tickets for the three day virtual summit June 7-9
Please go to the InnovatorsClubAsia vertical which has "promo code" in the heading and details are there (make sure you are logged in) or:
https://innovationhongkong.com/gallery/women-in-tech-conference-promo-code-for-member-discount/
or contact:  membership@innovatorsclubasia.com
for assistance.
Learn more about this conference and get your tickets at https://www.womentech.net/women-tech-conference