University in Thailand develops high-quality prosthetic feet
A research team from the Faculty of Engineering, Chulalongkorn University, Thailand, have developed high-quality dynamic prosthetic feet which are flexible and bendable and can store energy with each step. The prosthetic feet are made from carbon fibers, making them light weight but strong and durable. Users can walk in them on rough terrains, while exercising and during a light jog.
The innovation has received the ISO 10328 strength standards from Germany and has been certified with the ISO 13485 for quality. It has also been registered as a medical device with the Food and Drug Administration (FDA), been granted a petty patent, and registered in Thai SME-GP with other registrations/certifications in process.
Thailand now has 39,647 people with disabilities, over 95% of whom are using poor-quality prosthetic feet which are heavy and do not have ankles. This can adversely affect the way they walk, as well as their lives so this is a well needed innovation from the university.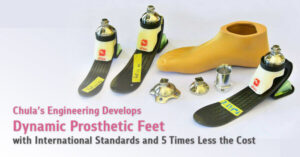 Asst. Prof. Dr. Pairat Tangpornprasert from the Mechanical Engineering Department, Faculty of Engineering, Chulalongkorn University, explained that the dynamic prosthetic feet have undergone clinical trials with 20 patients with disabilities and yielded highly satisfactory results. The users require approximately 2 weeks to adjust to the prosthetic feet.
In comparison with the imported prosthetic feet now available in the market, the local prosthetic has comparable qualities and efficiency but with a 5 times cheaper production cost.This can then help reduce the high cost of prosthesis and orthosis imports. Commercial production of medical devices can expand the market overseas, leading to more generation of income, export opportunities, and Thailand's competitiveness.
"Developing dynamic prosthetic feet, which are considered a medical device, required the efforts of a network of doctors and prosthetists and orthotists sharing their expertise and interdisciplinary knowledge in order to achieve good-quality dynamic prosthetic feet that meet international standards. I am proud to have successfully produced good-quality prosthetics and helped those with disabilities to regain function of their limbs," said Asst. Prof. Dr. Pairat.
The dynamic prosthetic foot project was funded by the National Research Council of Thailand. It is part of the prosthesis and orthosis for the disabled project under the "New Beginnings with Research and Innovation." The project commemorates the Coronation of King Rama X.
Sixty-seven dynamic prosthetic feet were given to people with disabilities at over thirteen hospitals. The prosthetic is currently being considered for government medical benefit schemes so that it may be accessible for people with disabilities, which will help improve their quality of life.
Chulalongkorn University is listed in the World's Top 100 Universities for Academic Reputation, in the Quacquarelli Symonds (QS) World University Rankings 2021.
Source pic: Chulalongkorn University