The Londoner® Macao officially opens
With refurbishments and additions over the past two years costing approximately US$2 billion (MOP 16 billion), The Londoner® Macao was officially opened last week. The Sands® Cotai Central integrated resort has been refined with a British theme seamlessly connecting The Parisian® Macao, The Venetian® Macao, and The Plaza® Macao.
The Londoner® Macao including The Londoner Hotel and the luxe Londoner Court offers nearly 6,000 rooms and suites, three spas, four health clubs, more than 20 dining options, boutiques from 150 world-renowned brands, and state of-the-art conference facilities.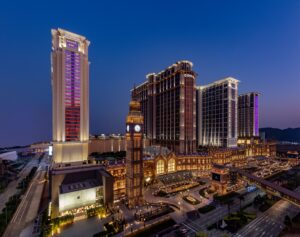 The Londoner® Macao
Sands China rolled out the red carpet to welcome international celebrities and VIPs for the first time since the Covid-19 pandemic began. David Beckham, UK soccer icon and Sands global ambassador, was among the guests of honor and was the opening speaker at the gala event, and attended by Macao's top officials and business leaders.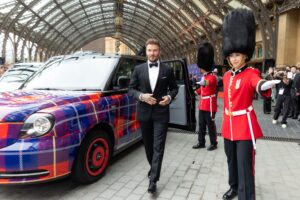 David Beckham entering the Londoner®
The Event
The event, themed "The Journey Begins," staged a grand celebration in the Londoner Arena which houses 6000 attendees. Las Vegas Sands Chairman and  CEO Robert G. Goldstein in his opening speech said "Sands China has delivered on Sheldon Adelson's vision through the ongoing development of Cotai. Where 250 acres of empty reclaimed land once sat, we have built one of the world's leading tourist destinations with an incredible future ahead of it. We are excited to fully support the Macao government in its vision to develop a highly diversified tourism industry through enhanced MICE offerings, new sporting and cultural event programming, enhancements to Macao's reputation as a global City of Gastronomy, and an embrace of the city's unique cultural heritage."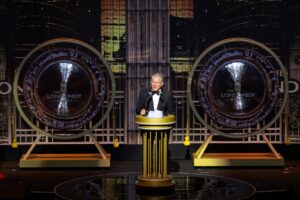 Robert Goldstein Chairman & CEO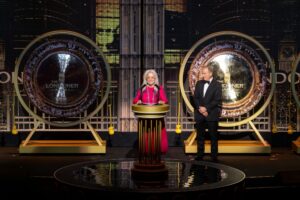 Dr Miriam Adelson with Robert Goldstein
Dr Miriam Adelson, Co-founder of Las Vegas Sands Corp spoke fondly of her husband Sheldon, and commented on what originally was all "under water" to the culmination of his vision of the Cotai Strip – one of the world's most spectacular leisure destinations. He saw the potential and invested in its development. She also touchingly remarked on how she missed him so much.
Officiating guests at the grand celebration were Mr. Edmund Ho Hau Wah, Vice Chairman of the National Committee of the Chinese People's Political Consultative Conference; Mr. Lei Wai Nong, Representative of the Chief Executive of the Macao SAR and Secretary for Economy and Finance; Dr. Miriam Adelson, Co-founder of Las Vegas Sands Corp.; Mr. Robert G. Goldstein, Chairman and Chief Executive Officer of Las Vegas Sands Corp.; Mr. Patrick Dumont, President and Chief Operating Officer of Las Vegas Sands Corp.; Mr. David Beckham, Sands Global Ambassador; Ms. Maria Helena de Senna Fernandes, Director of the Macao Government Tourism Office; Dr. Wilfred Wong, President of Sands China Ltd.; Mr. Grant Chum, Chief Operating Officer and Executive Director of Sands China Ltd.; and Mr. Dave Sun, Senior Vice President and Chief Financial Officer of Sands China Ltd. and Managing Director of Venetian Macau Limited.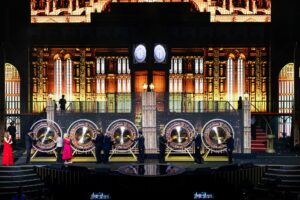 officiating at the ceremonial gongs
The audience were treated to performances given by China's globally renowned piano virtuoso Lang Lang,Hong Kong singer-songwriter G.E.M. singing hits in Cantonese and Mandarin and, Chinese musical theatre artist, actor and vocalist Ayanga singing well known hits such as Phantom of the Opera in Mandarin. Afterwards, guests enjoyed an intimate gala dinner where British jazz vocal legend Jamie Cullum performed.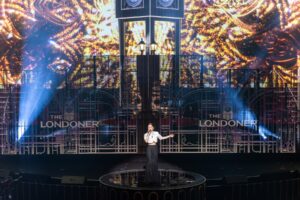 G.E.M.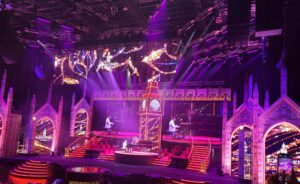 Lang Lang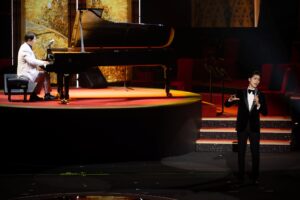 Lang Lang accompanying Ayanga
InnovationHongKong®|innovationasia® was delighted to catch up with friends during the cocktail (not seen for the past few years with travel restrictions) and join in some pics at the event: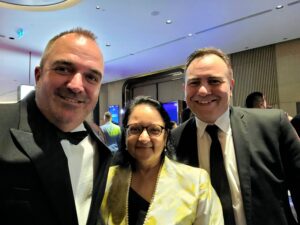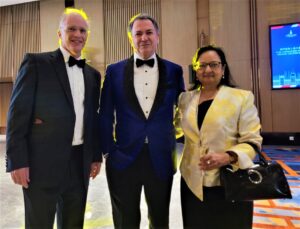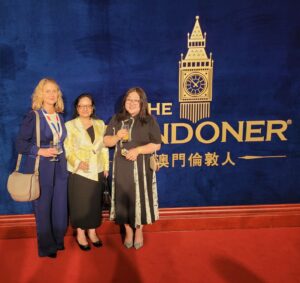 Lawrence Ho, Melco Entertainment & Resorts
Paul Town Marina Bay Sands & colleague
Tim Jones, David Sylvester Sands Retail
Kiri Sinclair-Sinclair Communications, Rainy Ji -Pin Chain Shanghai
InnovationHongKong®|innovationasia® was a guest at the event.
Picture Source: Sands China and InnovationHongKong®|innovationasia®