Technology bringing art to the world
WeChat and the Van Gogh Museum in the Netherlands  have launched a new WeChat Channels and Mini Program with unique AI-powered features that combine technology and art. The Van Gogh Museum became the first overseas cultural institution to livestream a virtual museum tour on its official WeChat Channels account, pioneering a new museum-going experience.This is paving the way for more cultural institutions looking to engage with a global audience via creative digital tools.
The Van Gogh Museum is one of the world's top art institutions with the largest collection of Vincent Van Gogh's works, housing 210 oil paintings and 704 drawings and watercolours. It was established in 1973 in Amsterdam, the Netherlands.The debut of its WeChat Channels video livestream marks the museum's further integration into the WeChat ecosystem after its recent launch of WeChat Mini Program and acceptance of WeChat Pay.
On the evening of May 10th (Beijing time),Willem Van Gogh, Advisor to the Board of the Van Gogh Museum, introduced Vincent Van Gogh's paintings in Amsterdam and shared some life stories of his great grand uncle. Tens of thousands of Chinese viewers were able to appreciate Van Gogh's important works virtually—including his well-known works "Sunflowers," "Bedroom in Arles," "Tree Roots," and interacted with the hosts by pressing "Like", asking questions, and entering a lucky draw for souvenirs.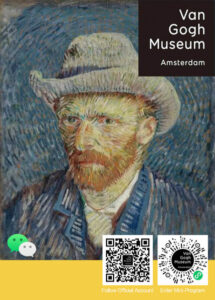 The Van Gogh Museum selected 25 of Van Gogh's most famous works in its collection and digitalized them for its brand new WeChat Mini Program. Users are able to view high-definition art works virtually, learn about the artist's life stories and buy merchandise through the six interactive sections: "Understand Van Gogh," "AI Van Gogh," "Museum History," "Van Gogh Store," "Masterpiece Appreciation," and "Floor Guide."
Silk Road Treasures in French Museum
Chinese tech giant Tencent (0700.HK), the Dunhuang Academy, and France's Guimet Museum, are launching a joint program for the digital restoration and reproduction of the Silk Road precious relics. These paintings, sculptures and scriptures in the Paris museum hail from the Buddhist caves at the ancient Chinese trading oasis of Dunhuang. They will be on digital display for all the world to appreciate.
The initiative will allow virtual tours of the art treasures, some dating back to hundreds of years before Marco Polo's Silk Road adventures and are expected to be popular viewing.A mini-program established on Tencent's WeChat has enabled virtual tours of the home of the artifacts, the Dunhuang Mogao grottos, and already attracted 39.88 million users since last year.
The treasures from the Guimet Museum are expected to be displayed through the same mini-program, and eventually through multiple digital channels.Tencent will use three-dimensional image acquisition and processing, and apply cutting-edge technologies such as VR360 immersive media and AI for artifact protection and preservation.Blockchain technology will be used for the digital artifacts' copyright protection — a technique Tencent expects to deploy widely in the future.