SwissTech Pitchinar showcases the latest innovations in DeepTech via global audience
Twenty Swiss tech-driven startups took the global stage at the SwissTech Pitchinar world premiere on 10 June, (2020) from Shanghai,China. The event, in webinar format, was organized by swissnex China in collaboration with SwissTech, CES ASIA and Venture Leaders, with the support of institutional partners.
This first-of-its-kind virtual event held on Zoom received overwhelming interest from audiences with more than 950 registrants from top universities, blue-chip companies, media and 238 investors with strong interest in Swiss technology and innovation and, 20+ diplomatic missions & international organizations seeking opportunities for investment, partnerships and project cooperation. Ambassador Nicolas Bideau, Head of Presence Switzerland, and Gary Shapiro, CEO of Consumer Technology Association, which organizes CES ASIA and Las Vegas, delivered the keynote messages.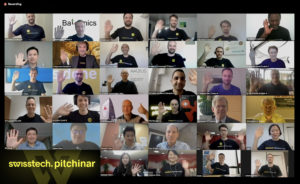 innovationhongkong® attended the webinar event which was impressive. Twenty leading Swiss startups in the fields of Advanced Instrument, Artificial Intelligence, Augmented / Virtual Reality, Biotech, Blockchain, Cybersecurity, Energy, Fintech, HealthTech, IoT, Robotics, Software and VehicleTech competed in four groups and delivered 90 second pitches to reach the final round.
Judging panel for the event -who also asked questions following each of the four group pitches – were James Chou, Microsoft CEO for Startups, Bing Sheng, Managing Director SDIC Fund Management Co., investing in lifesciences, IoT and electric vehicles and, Cheingfei Yuan, PWC China.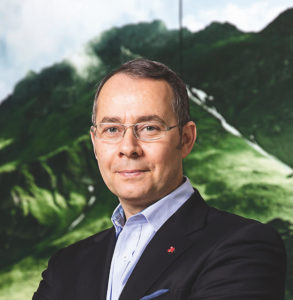 "Today, we pioneered a powerful virtual platform for Swiss startups to establish game-changing partnerships with investors, mentors, experts, potential business partners and highly-engaged audiences on a global scale: an unprecedented way to add value and build bridges", said Dr. Felix Moesner, Science Consul and CEO of swissnex China. "We saw overwhelming interest in our DeepTech startups and wish them every success with their many follow-ups."
The winner of the event was Mithras Technology, an IoT startup that developed wearable technology -turning human body heat into usable electricity.
With this technology, the temperature difference between the thermal interfaces to skin and ambient, charges an accumulator that conveniently stores the energy for later use. Users of these devices will have the opportunity to extend the battery life of wearables / portable products and to remove the need for battery replacement and recharge of multiple health-related devices. In turn, these devices will reduce their local demand of energy in the greenest way possible.
Initially Mithras introduces a minimum viable product (MVP). The core features include energy autonomy and non-invasive body core temperature measurement. Possible areas of application are hospital care, point-of-care, wellness, recovery and ,a variety of professions in extreme conditions (e.g. firemen) and sports.
"This was completely unexpected. We feel very proud and honored to have won the first SwissTech Pitchinar 2020! We already received lots of positive feedback from people reaching out to us, which could result in very interesting leads and this highlights the inestimable worth of such events", said Franco Membrini, Founder & CEO of Mithras Technology.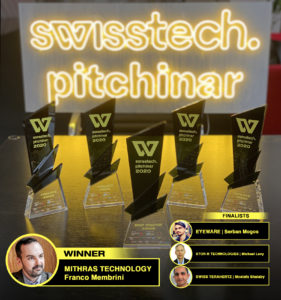 The three finalists were:
-Eyeware: Remote eye tracking software for laptops, smartphones, cars.With 3D eye tracking Eyeware can enable real-world interactions for safer driving, more immersive gaming experiences, accessibility, shopper behaviour research and training simulators as examples.
-STOR-H Technologies: The global energy standard for zero-carbon mobility. Twelve electric vehicle manufacturers have already adopted this energy standard creating a portfolio of vehicles in the 250W to 10KW power range for deployment worldwide.
-Swiss Terahertz:High tech terahertz laser technologies for security and quality control. The start-up focuses on the terahertz radiation which is presently the most advanced
technology for non-destructive testing and non-ionising security scanners.
The outstanding performance of all participating startups demonstrated the strength of the Swiss innovation ecosystem and the calibre of world-class Swiss universities.  Swiss Ambassador to China Bernardino Regazzoni virtually awarded the trophies to the selected startups.
Source: swissnex China