Startup Impact Summit: Building the Future of Hong Kong and Beyond
InvestHK and their partners delivered an interesting and informative virtual event to more than 471 speakers from 97 countries and territories, attracting a total of 181,770 attendees during the week of July 6-10 ( 2020). The Festival featured 199 virtual exhibitors.
Startup Impact Summit delivered over 100 global speakers including Visa, Sensetime, Avant Meats, Techsauce Global, Growth Mentor, Gobi Partners China and more…
The Opening Ceremony of Startup Impact Summit took place on the Main Stage (powered by Visa) of the conference.  Carrie Lam, Chief Executive, the Hong Kong Special Administrative Region Government, outlined a roadmap for startups and small and medium enterprises (SMEs). She highlighted the government's pro-innovation procurement policies and support for Hong Kong's local startup base, while pointing out the far-reaching promise of the Greater Bay Area, notably the Hong Kong-Shenzhen Innovation and Technology Park in concert with the Shenzhen Government.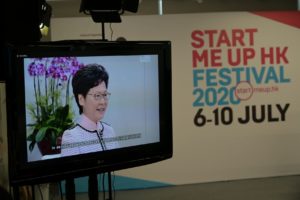 Main stage sessions
Following this were panels and fireside chats. Blake Larson from Lalamove, Ester Wong from SenseTime and Jessica Lam from WeLab were in the  session on Unicorn Talk: Insights from HK's success stories. They shared their own visions and missions, identified the strengths of Hong Kong, the challenges in terms of ensuring great user experience and discussed how data privacy can protect their customers.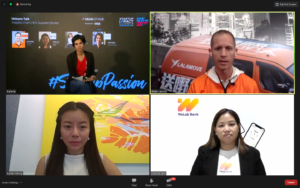 Marc Entwistle from Oliver Wyman, Satya Tammareddy from Stripe, Maggie Yung from DBS Bank and Jan Ruzicka and Home Credit Group sat on the panel of 'The Future of Payment'. They explored the impact on the development of online payment during the pandemic, the growth in credit payment in Asia, the changes from adopting the new forms of payment towards people's lifestyle and the correlation between bigtech and virtual bank at the Main Stage (powered by Visa) at SIS20. It is foreseeable that the payment methods will keep innovating in the future and traditional financial service providers will need to find a way to maintain their competitive advantages.
Venture Stage
On the Venture stage, were Alexandra Martins from Bridge for Billions, Elizabeth Tan from Quest Ventures, Michael Au from District Capital and Cynthia Cheung from UNDP. They discussed what are the different myths and truths on Impact Investing that they come across.As an example- the many ways in which people define impact investing and how they look at it from their perspectives and their companies.
With the FoodTech Ventures session the panel had Nick Cooney from Level VC, Carrie Chan from Avant Meats Company Limited, Andrew Ive from Big Idea Ventures with Natalie Lung from Brinc. They discussed the Alternative Protein Market trend and its sustainability, what is driving this dramatic shift in global consumption and the growth of the market in numbers.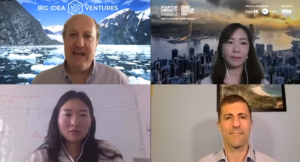 International & GBA Stage
There was also an International & GBA Stage. With experts from Thailand, this panel discussed Thailand as a market for new startups and startups present in other countries looking to expand to Thailand- from the perspective of a VC and Ecosystem player.
The panel speakers saw Oranuch Lerdsuwankij from Techsauce Media, Nuttanun (Nicky) Jaroenjitkul from Wisesight Investment with Nala Puttiputtachart from CU Innovation Hub.
Growth Impact Stage
On the Growth Impact Stage, Sam Dickie from ucreate talked with Zoe Chew of NewCo on the Rise of the No-code movement and how it allows an "in" for the people who don't know how to code into the Tech Ecosystem, turning them from an outsider to part of a community.
This was followed on the same stage with 'Why mentorship matters to the startup community'. This panel had Foti Panagiotakopoulos from GrowthMentor, Lalitha Wemel of Techstars and Nicole Fu of Nav.Marketing. These experts in the startup community discussed why entrepreneurs need experienced mentors, and what mistakes and pitfalls can be avoided if given the right guidance. A valuable session for those startups able to tune in.
Hack.Asia
Hack.Asia, is an annual hackathon hosted by WHub and powered by Jardines This took place during the Startup Impact Summit from 6-8 July, 2020. More than 800 startups, students and innovators participated in the final round of Hack.Asia, a 36-hour virtual hackathon with the support from educational institutions and startup ecosystems around the world. This year, the hackathon received over 1,000 applications from more than 10 countries. 84 finalist teams (comprising 34 startups and 50 student-led teams) were selected for developing and designing technology-driven solutions to address challengesfaced by market-leading businesses in the region. Winners received cash prizes and the opportunity to advance a Proof of Concept with the sponsor.
The final pitches and award ceremony took place on the Main Stage. The Grand Prize was awarded to FoodieXpress from Boston. FoodieXpress prototyped an AI-Enabled Business Intelligence Platform to augment the Pizza Hut management team's capacity to adapt to the changing behavior of customers, namely the increasing demand for food delivery. It is A Dashboard, A Demand Prediction Device, and An Optimization Tool.
During the 36-Hour Hackathon, there was a Yoga session to help the participants relax! That was novel for this virtual hackathon.