StartmeupHK Festival 24-28 May 2021

StartmeupHK Festival is coming up soon and InnovationHongKong® is again proud to be supporting this virtual event. There is a big agenda packed with a strong lineup of speakers with many other activities happening around the event.
This year, there is not an all-in-one ticket being offered to attendees with fourteen partners being appointed (more than double of last year). Registrations need to be done separately via the fourteen main event partner's individual websites. Those events that InnovationHongKong is supporting have their websites listed for your easy access.
All events are free of charge except for GBA Innovation Summit  by TusPark Hong Kong, GBA Online Hackathon by Startup Salad and some premium sessions of WHub as well as exhibition opportunities at Shaperz by Finnovasia.
A brief run down of what's happening:
May 24-25, 2021 ShaperZ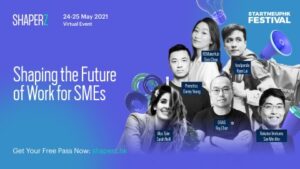 The SHAPERZ is a new two-day virtual event bringing the latest technological innovations to SMEs, scale-ups and corporates. No matter which industry or team you are in, the organisers Finnovasia have the digital solutions, connections and masterclasses arranged that you will need for transforming your business.
The event will feature the most prominent #ShaperZ – inspiring #entrepreneurs who have proven their digital strategy to be successful. Hear from executives and founders from Shopify, Uber, foodpanda, 9GAG, GOGOX, Rakuten and so many more.
InnovatorsClubAsia® is proud to be a community partner of this event and will be presenting a masterclass on the Innovation Journey for SMEs.
Day 1: 10:00-17:00HKT
Day 2: 10:00-17:00HKT
Get your free pass here: https://www.shaperz.hk/
May 24-25: Proptech Asia & Beyond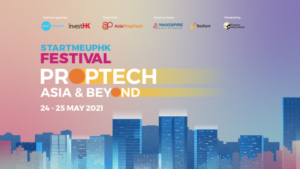 Another newly curated event this year is a 1.5 day conference highlighting the evolution of real estate and the urban landscape. This Proptech event will showcase forward-thinking start-ups and host keynotes speeches and panel discussions to address foreseeable real-life challenges and global issues within the Property Technology (PropTech) sector.
Innovation Hong Kong is proud to be supporting this brand new event organised by Asia Proptech this year.
May24-25, 2021
Day 1: 10:00-20:00HKT
Day 2: 10:00-13:30HKT
Please register for your complimentary tickets here:
https://www.asiaprop.tech/startmeuphk2021
May 24, 2021 AI
Panel 1:11:00HKT  Panel 2: 14:00HKT
On May 24, there will be two panel sessions  bringing together Tech leaders to help separate hype from reality and spot suitable opportunities in AI.
May 24, 2021 14:00-19:00 HKT Female Funding Fair
A half day event bringing together business leaders, investors and experts to discuss the importance of investing in women to promote gender equality and to lift up female founders through mentoring.
May 25-26, 2021 Scaleup Impact Summit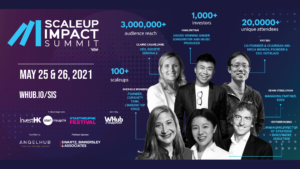 This scaleup summit organised by WHub or May 25-26 will bring together a big line up of speakers and is created for futurists – whether you are an entrepreneur, creator, business contributor or investor. The event will focus on scaleups and businesses in the global ecosystem that are pushing innovation to a higher level and changing the world.
Innovation Hong Kong is a proud to be a community supporter of this event this year which is organised by WHub.
Day 1: 12:00-18:00 HKT
Day 2: 10:00-18:00 HKT
Free streaming to this event is available when you register here:
Please note that there are other paid events as part of the programme and innovationhongkong readers can get a discount  from this link as well as the free programming.
May 25, 2021 GBA Innovation Summit 10:00-18:00HKT
Focusing on the topics of technology, industry, and investment in the Greater Bay Area, the GBA Innovation Summit will focus on how to build a technological innovation ecosystem in the GBA. Starting from Hong Kong, it will explore how to use technological innovation as the driving force to form a strong and resilient Greater Bay Area development path.
26 May 12:30-14:00 HKT Thriving Together
During pandemic, there are many discussion surrounding what is ahead for startups and what the future of investment looks like. Entrepreneurs need to be more aware of the current ESG trends not only to attract investment and retain employees whilst investors seek to lower their risks while building a more sustainable future for everyone.
May 27-28, 2021  Startup World Cup Asian Regional Finale 2021
A world class startup event platform which will bring together the CEOs of top startups, venture capital and large enterprises worldwide. SWC regionals are held in 6 continents. The organisers hope to convene regional champions from other parts of Asia to Hong Kong and expand the competition.
Day 1: 13:00-14:30 HKT
Day 2: 09:00-17:30 HKT
May 27, 2021 Connected Cities Conference 
09:00-19:00 HKT
This annual conference on the agenda will feature global and regional speakers from academia, business and leading entrepreneurs to showcase examples of a number of smart / connected cities and technologies from around the world including IoT, AI and Data Analytics to enhance a city's liveability, workability and sustainability.
May 27, 2021 Asia Healthcare Innovation Summit
09:00-18:00HKT
The Asia Healthcare Innovation Summit will bring together health startups, professionals, and investors to share their knowledge and experience on the latest developments within health technology.
May 27, 2021 Virtual Fintech Forum 2021
10:30-20:00HKT
A full day Fintech conference that will provide insights and curated thought leadership on the core themes of Fintech for Industry 4.0 and Fintech for ESG & Sustainability. The agenda includes thought leadership panel discussions, industry roundtables, workshops, startup Showcases.
May 28, 2021 GBA Hackathon Final 2021
Participants of this hackathon would have had one week of mentoring with brainstorming sessions to bring their projects to fruition for this final.
May 28, 2021 Ecosystem Summit 13:00-16:00 HKT
This half-day conference will have panel discussions about "Strengthening Hong Kong Innovation Ecosystems". The discussion will focus on promoting Hong Kong as a sustainability hub, facilitating business collaboration particularly within the Greater Bay Area, and fostering development of Hong Kong.
May 28, 2021 The Defining Decade for Impact with Tech
09:00-13:00 HKT
This event will showcase a mix of local and international sustainability and impact-driven startup solutions, share successful case studies of driving impact through tech, and provide the audience access to the community. There will be a mix of speakers and panelists who will share their knowledge on the sustainability + technology space and empower each of us to make changes.
So a very full agenda as always put together by InvestHK and the various organisers of events to ensure a successful StartmeupFestival 2021. There are also a number of community events planned and we will bring you more information and update soon.