Starlux launches flights between Taipei and Ho Chi Minh City
STARLUX Airlines, the Taiwan startup established last year (2020) has launched its brand-new route between Taipei and Ho Chi Minh City this week ( May 13, 2021) – operating three round-trip flights a week. This is going against the general trend of airline flight scheduling during the pandemic.
The airline will continue safety precautions and measures to prevent Covid-19 with this newly launched route. Measures include full cabin and amenities cleaning and disinfection on every flight, cabin crew wearing disposable waterproof gowns, surgical masks, waterproof gloves and eye protection equipment.
This luxury boutique airline is committed to breaking traditional models and providing innovative services. It was founded by former chairman of EVA Airways and certified pilot, K.W Chang. STARLUX launched its inaugural flights from Taoyuan to three destinations – Macau, Da Nang and Penang in January 2020.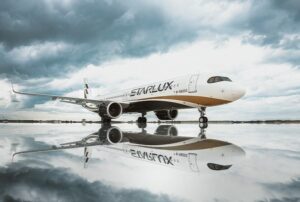 The airline's hub is at Taiwan Taoyuan International Airport. STARLUX Airlines is initially flying routes in Southeast Asia and Northeast Asia, gradually developing its trans-oceanic routes to North America next year (2022). It is now operating Macau, Penang, Kuala Lumpur, Bangkok, Ho Chi Minh City, Tokyo and Osaka routes.
STARLUX is introducing all 13 of a new generation of passenger aircraft — the A321neo — and four are already in place. The company plans to introduce another eight A330-900, ten A350-900s and eight A350-1000s.
STARLUX airlines is positioned as a premium boutique airline. Its A321neo aircraft has 188 seats, including 8 in business class and 180 in economy class. Each seat in business class is equipped with a 15.6-inch 1080p inflight entertainment system screen and can transform into an 82-inch fully flat bed. Passengers sitting in economy class can stretch out with a generous 31-inches of leg room and enjoy a personal entertainment system featuring a 10.1-inch 720p screen, which is the first on narrow-body aircraft in Taiwan. The business class meals are specially prepared by the one-star Michelin Taiwanese restaurant – Longtail, while economy class features Taiwan-based meat brand "Hutong Roasted Meat" to create luxurious roasted meat with rice. There is also the one and only signature "Home in the air" cabin fragrance.