Who Won a Silver Award at DFA ?
Silver Award
SLEEEP / Hong Kong
Winning Company: Space is Ltd.
Hong Kong
Environmental Design – Hospitality & Leisure Spaces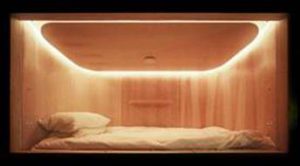 SLEEEP is the first licensed capsule hotel in Hong Kong. SLEEEP's focus on quality sleep, sustainability and user experience creates a haven for city dwellers who needed a break from the hustle and bustle of Hong Kong. The attentively placed eclipse lighting provides the necessary amount of lighting for customers to navigate through the space yet still maintaining the tranquil and soothing mood. The opening and closing of the curtain hardly make any noise. SLEEEP's commitment to the environment is evident from its paperless operations to its heat recovery system which turns the waste heat from air-conditioning to warm showers.
The DFA Awards were held on December 6, 2017 and organised by The Hong Kong Design Centre (HKDC) with Create Hong Kong of the Hong Kong Special Administrative Region Government as the major sponsor.
DFA Awards offers a stage to some of the most dedicated talents, encouraging the growth of creative industry and providing a platform to establish networks with influential designers and business leaders.
Source: Sinclair Communications