She Loves Tech October 26-27 in Singapore
On Oct 26th-27th[2023] the She Loves Tech Global Conference is taking place in Singapore at the Fairmont Hotel. There will be an exciting array of speakers, networking opportunities with key ecosystem players, plus the finals of their global startup/scaleup competition from over 70+ countries.
InnovationHongKong attended the She Loves Tech event in June in Hong Kong and was inspired to see the calibre of pitches made for that leg of the global competition. It was a tough decision for the judges with such purposeful businesses wanting to scale.
She Loves Tech has grown to be the #1 platform for women and tech globally with founders from 100+ companies and past cohorts raising over USD350million.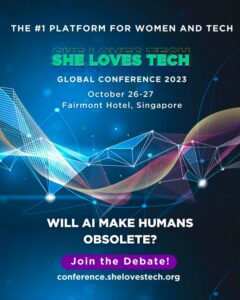 We are delighted to be a community partner for the Singapore event. Speakers confirmed include:
 Paula Ingabire, Minister of ICT & Innovation, Government     of Rwanda
Jeanne Lim, former CEO of Hanson Robotics that built Sophia the Robot and current Co-Founder & CEO, beingAI (the  hologram of her robot, ZBee will be at the  conference)
Jenny Lee (one of the most famous investors in the region)
Dr NGIAM Kee Yuan, Group Chief Technology Officer of Singapore's National University Health System (NUHS)
Sam Rhee, Chairman & CIO, Endowus
Sharon Sim, CoFounder and General Partner, Purpose Venture Capital
Sarah Chen Spellings, Co-Founder, Beyond the Billion
If you hurry there is a special early bird rate to register and you can do that here: https://conference.shelovestech.org?
For members of InnovatorsClubAsia® there is a very special offer which is available to view in the InnovatorsClubAsia® section where you will find the promo code – you need to be a subscriber to access this special code and discount to the event. We are very lucky that the organisers have extended this very special offer to our members !
If you have any questions or queries please contact us here:
cs@innovationhongkong.com