ShaperZ Masterclass from InnovatorsClubAsia
If you did not get a chance to view the Masterclass produced by InnovatorsClubAsia for the ShaperZ (by Finnovasia) conference at last week's Startmeup Festival we are happy to share it with you via a link here:
https://drive.google.com/file/d/1A06h4qfeM6AgAxbZ3K2iSfh1_cpirqO3/view?usp=sharing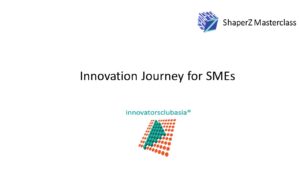 Join David Thomas,Managing Partner of Profound Knowledge Partners and I as we discuss "Innovation Journey for SMEs" – introducing The Six I's® of Innovation, aimed at helping SMEs and startups learn to consistently drive and manage innovation. We also outline some of the challenges that SMEs face whilst providing innovation tips on how to address them.
This is a 30 minute session fyi.
We hope you enjoy this and if you would like to find out more about InnovatorsClubAsia future courses and/or book personal sessions please contact us at membership@innovatorsclubasia.com