Sany New Energy Engineering Vehicle testing centre opens in China
SANY Group has opened the SANY New Energy Engineering Vehicle Testing Centre in Changsha City, Hunan province, China. The Centre, which has received an investment of over RMB 100 million [approx. 14,034,103 USD], is the world's first and China's most comprehensive testing base for battery-powered engineering vehicles.
It covers an area of one hundred acres and includes an indoor laboratory and outdoor testing site that can simultaneously assess the performance and reliability of 20 vehicles. The Centre has specialized testing equipment for motors, batteries, electronic controls, hybrids, hydrogen fuel, battery cells, and electric drive axles. It has over 20 electric test benches and a heavy-duty chassis dynamometer that can generate a traction force of 120,000N and support an axle load of 35 tons.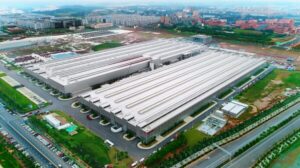 The Centre also has an extreme environment chamber for whole-vehicle testing, with a volume exceeding 2,500m³. It can conduct tests within a temperature range of -45℃ to 70℃ and is equipped with a sunlight simulation system for comprehensive evaluation.
"SANY strives to lead the way in supporting the worldwide transition to a low-carbon economy with testing hub to enhance technological reliability and drive marketable innovations of battery-powered engineering vehicles," said You Ligang, Deputy Director of the Centre.
SANY Leads the Way in China's Electrification Market
In 2022, SANY dominated the electrification market in China by selling over one thousand electric cranes, winning the annual sales championship for electric heavy-duty trucks, and selling over thirteen hundred electric mixers. To maintain its leadership in the industry, SANY plans to build a new energy engineering vehicle test site to meet the growing testing needs in the new energy field. SANY is also embracing digital innovation to optimize its manufacturing strategy and expand corporate sustainability.
SANY's No.18 Factory has adopted an automated production system powered by AI and industrial IoTs to tackle periodical market headwinds. The factory has seen increases of 123% in production capacity and 98% in productivity, and a 29% reduction in unit manufacturing costs.
Picture Source: SANY Group