Re-engineering Tax-Free Shopping Globally drives acquisition
utu (pronounced "you-too") , a Singapore-based travel-tech company announced its acquisition of CardsPal — a Singapore-based platform which will allow utu to accelerate growth by leveraging the platform's unique mobile-first technology and talent.
The closing deal of US$33 million (in combined transaction value)- comprising of the acquisition and a funding round- consists of both a portion of new funding, with SC Ventures participating and the roll-over of earlier funding from Singapore-based investors.SC Ventures is a business unit that provides a platform and catalyst for Standard Chartered to promote innovation, invest in disruptive financial technology and explore alternative business models.
CardsPal has plentiful hyper-localised rewards promotions and existing infrastructure.Pivotal to utu's decision to acquire CardsPal is SC Ventures' support incubating the startup to become a full-fledged tech platform that utu can leverage to expand its reach in major tax-free shopping markets in Southeast Asia, East Asia, and beyond.
The World Travel and Tourism Council (WTTC) is forecasting the industry to reach US$9.5 trillion in 2023, or 95% of 2019's pre-pandemic peak. Despite the turnaround in the travel industry, McKinsey reports that only about 1% of venture funding in the past 15 years has gone to travel, mostly in short-term rental hospitality. The tax-free shopping sector is especially subject to this lag, and the high cost of refund processing tends to diffract the benefits of refunds to travellers.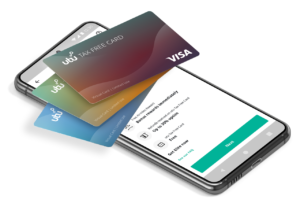 utu acquisition accelerates growth
Re-engineering tax-free shopping
utu is addressing these hurdles by collaborating with refund and travel industry partners, enhancing refund value through innovative B2B and B2C solutions. With a re-engineered approach that links payments, rewards, and shopping, utu introduces new value for the entire tax-free shopping value chain.
utu offers users two primary value-centric benefits when they opt to receive tax refunds via their utu Tax Free Card. Travellers can gain up to 40% more value by choosing frequent flyer miles or hotel points over cash refunds. Secondly, utu can issue an immediate store voucher equivalent to up to 120% of the tax.
For its partners — such as retailers, airlines, and other travel industry players — utu can potentially boost their revenue from tourist shopping by up to 40% and is already delivering this value through key relationships with 10 leading global airlines, including Singapore Airlines, Emirates, EVA Air, and Thai Airways, as well as Europe's hospitality brand, Accor.
The company was founded in 2015 in Singapore and can now be used in over 50 countries. Asad Jumabhoy, co-founder and CEO of utu, said: "The cross-border travel market is ripe for a technology-driven transformation, with tax-free shopping presenting vast untapped potential. By enhancing the value of VAT and GST refunds for travellers, we've reimagined the cross-border retail experience and devised a technology-based business model unlocking previously inaccessible value."
Thriving capacity and reach
The CardsPal acquisition equips utu with a digital marketplace, a unique promotions engine and a self-service merchant registration portal. Its technology and mobile-first technology talent will expedite utu's rollout in major tax-free shopping markets like Thailand, Singapore and Australia, offering VAT and GST refunds.
"CardsPal is a great example of why we at SC Ventures believe in the power of innovation and support our employees to have transformational impact. Through SC Ventures' Intrapreneurship Program, CardsPal grew to become a substantial business with award winning UX. We look forward to utu's continued success scaling its products across the globe using CardsPal's technology," stated Gautam Jain, Member, at SC Ventures.
you can download the utu app here: https://utu.global/get-the-app/
Picture Source: courtesy UTU