PropTech: Asia & Beyond Summit 2021
Technology is fast changing all facets of life and the real estate industry is no exception. As the saying goes – 'Life gets Real only once you have dipped your hands in Real Estate.' Buildings have evolved to meet the changing needs of the way humans work, live and play – yet the business models around real estate have not changed much over the past few decades.
It was inevitable that PropTech (short for property technology) would be exposed as a key hotspot of innovation. Property technology is a broad term used to define technologically innovative products or technology-enabled new business models that cater either directly or indirectly to the core needs of the real estate markets.
"It was reported that the average agent spends 80% of their business day doing admin and marketing their product, and not negotiating and closing deals. Technology allows us to invert that statistic so that 80% of a professional's time is spent negotiating and closing deals, and only 20% is spent on administrative tasks," says Dan Hughes, a renowned real estate specialist.
The upcoming Proptech Asia & Beyond Summit 2021 on May 24-25, is part of the StartmeupHK Festival 2021 which runs that week.It is a collaboration between Bowie Lau, founder of MaGESpire, Paul Chen and Leo Lo, co-founders of Asia PropTech to combine forces and establish a flagship event to showcase the PropTech space prominently in Asia and across the globe.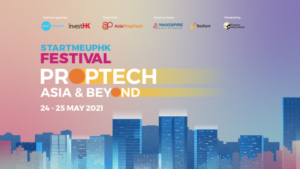 The 1.5-day summit aims to highlight the evolution of real estate and the urban landscape through identifying forward-thinking start-ups and hosting keynotes speeches and panel discussions to address foreseeable real-life challenges and global issues within the Property Technology (PropTech) sector. This summit will also be showcasing startups in field specialties such as IoT for sustainability, home automation, air filtration, AI for real estate investments, hyper location analytics, etc.
This event is  part of the week-long StartmeupHK Festival, supported by Startmeup HK and Invest HK. The event will showcase keynote addresses from renowned speakers, enable high-power discussions around innovation, highlight cutting-edge start-ups, and provide an interactive platform to shape the next stage of the PropTech evolution in Asia and beyond. By bringing together Senior Executives, Practitioners, Startup Founders, Investors and Renowned Academics and fostering the exchange of ideas, the organisers hope to inspire significant progress towards the adoption of new-age technology solutions and support further growth of the PropTech ecosystem by setting the momentum with a firm upward trend. PropTech maybe relatively young, but it is thriving.
The PitchStart Battle is another highlight of the event.High-potential PropTech (including ConTech – Construction Technology) start-ups will gather online and present their business ideas to a panel of industry experts and investors to win a grand prize of USD 5,000 and, achieve critical exposure of their ideas to PropTech investors, and end-users based in Asia and beyond.
PropTech for Youth is a half-day workshop with industry mentors. It aims to equip Hong Kong youth to embrace the emerging PropTech sector as one of their future career paths or entrepreneur direction.  It is also the first PropTech event that is specially curated for students with any disciplines interested in understanding more about property technologies and exploring career paths within this emerging industry. Together with their mentor, the students will be introduced to a PropTech, then formulate a solution with such PropTech to solve an existing problem in Hong Kong.
The first 1,000 seats are being offered free, so sign up below while the free seats last. Book your ticket today:
https://www.asiaprop.tech/startmeuphk2021