Premium
Premium
This exclusive members only vertical provides you with exclusive leadership and insights from leaders and innovators across industries.
Have you ever thought about reading other's struggles and how those leaders looked at the issues from a different perspective, which then led them to progress to innovate ? You might be surprised to read about innovators from different verticals who can provide valuable insights to your business and lead you to look at things with a different lens…
View more than 50 exclusive interviews including: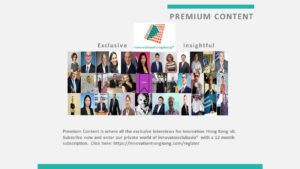 Leaders and innovators such as Bonnie Cheung,Desmond Marshall, Vivek Pathak, Duncan Chiu, Ajmal Samuel,Susanne Chishti, Sueng-gun Lee, Giovanni Bulgari, Paul Cocksedge, Lawrence Ho, Alan Zeman, Ben Way, Henri Arslanian, George Lam, Chris Mallios, Girish Jhunjhnuwalla, Nicholas Brookes, Philippe Blot, SC Moatti, Anson Bailey, Dr Manson Fok, Michael Carmelengo, Nabi Mariyam,Dr Snehal Patel, King Leung, Paul Ark, Tony Verb, Charmaine Lo, Matthew McKenzie and more…
With a 12 month subscription you will also gain complimentary access to the innovatorsclubasia® which will launch in 2020 and provide you with premium club opportunities,the ability to interact peer to peer with industry executives and more.
Join us now and subscribe – click here:
https://innovationhongkong.com/register