It's a wrap – StartmeupHK 2020 delivers a great programme line up virtually for the first time.
Connected Cities Conference
InvestHK and their partners delivered an interesting and informative virtual event to more than 471 speakers from 97 countries and territories, attracting a total of 181,770 attendees during the week of July 6-10 ( 2020). The Festival featured 199 virtual exhibitors.
Jayne Chan, Head of StartmeupHK, Invest Hong Kong, welcomed participants to dive into a question on what the future holds for Hong Kong- setting an optimistic and forward-thinking tone for this year's event.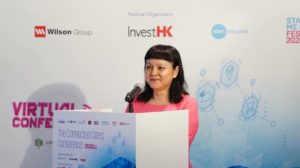 Jayne Chan, Head of StartmeUpHK
The Festival started with the Connected Cities Conference, organised by KPMG, during which Alfred Sit, Secretary for Innovation and Technology, the Hong Kong Special Administrative Region Government, led a discussion on what it takes to build a smart city with reference to Hong Kong. The government plans are outlined in the Smart City Blueprint which puts forth over 70 initiatives under six smart areas to maintain Hong Kong's position as a leading city for innovation and technology.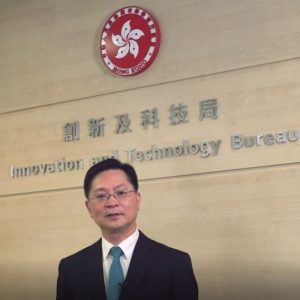 Alfred Sit, Secretary for Innovation & Technology
Julian Vella  Co-Head, China – Global Infrastructure Advisory, KPMG China introduced the Future Hong Kong 2030 report which outlined enhancement of Hong Kong's technology infrastructure to build a smart city by 2030. He then moderated a panel with Dr. Saraansh Dave, Head of New Business Development, CLP, Jimalyn Yao, Digital Solution Manager, Siemens Advanta Solutions, Siemens, and Daniel Chun, Chairman of Research and Blueprint Committee, Smart City Consortium, discussing the factors needed to build an innovative and modern city and what that would look like for Hong Kong. Key targets were affordable housing, sustainable energy usage and innovative technology. These three factors should work collaboratively and be integrated in communities with initiatives and education for citizens. Partnerships between businesses, government and the public would also be required.
Building a smarter Hong Kong
David Turkington, Head of Technology, APAC, GSMA and NiQ Lai, Co-Owner & CEO of HKBN, then discussed the impact of 5G and why we innovate. Adaptability is key to success. Key takeaways were that we must learn from our mistakes and grow to make better decisions in the future; we can build an efficient, safe and prosperous future by utilising new technologies.
Following this were Eunice Tse, Manager, Transport and Logistics, Google Cloud, and Jessica So, General Manager, Let's Park, who  noted that the key to tackling the transport challenge is leveraging artificial intelligence. How can we reduce carbon emissions and still function as an efficient and fast paced city? Transport is the connecter between people, communities and places. In order for a city to function at its highest capability, we must have a strong transport network.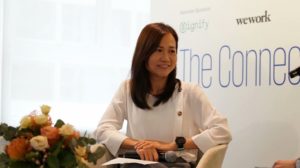 Jessica So, Let's Park
Apart from  smart transport, a smart city needs smart services. Daniel Chun, Chairman of Research and Blueprint Committee, Smart City Consortium, and Andy Wong, Head of Innovation and Technology, Invest Hong Kong, discussed how the Hong Kong government is advocating for 'smart city' services. Wong noted that they were looking into how they could leverage the city's facilities in a way that showcases Hong Kong to the world, adding that the government may utilise technology from overseas to solve problems with double aging,aging building stock and an aging population.
Artificial intelligence, virtual reality and 5G are key elements to building a smart city and Jean Baptiste Monnier, SVP Strategy Partners, Bentley Systems, and Dr. Eric Chong, President and CEO, Siemens Hong Kong and Macao, discussed how to integrate them into modern society and what tools can be used such as digital twins. Monnier explained how open source, data sharing and reliability are fundamental and that the cloud is where collaboration happens. "We must work collaboratively with each other and with technology to build cities of the future,"he added.
Sustainability was also part of the day's agenda. Marissa Wong, Associate Director, Investments and Ventures, Innovation, CLP, Travis Kan, General Manager, Energy Management, CLPe Solutions, Amen Tong, General Manager, Airport Authority, and Charles Wong, Founder and CEO, R&B Technology looked at how we can take the steps towards a world free of carbon emissions. Hong Kong needs to follow the best practice of green cities such as Bristol (the UK) and Portland (the US) with more cycle lanes, efficient use of land and community initiatives for more sustainable behaviour. Tong outlined ways they plan on creating a smarter Hong Kong airport, including introduction of e-vehicle chargers and battery supplies to reduce fossil fuel usage.
The debate: What is the future of technology ?
A highlight and providing some entertainment to a packed agenda was the debate conducted and judged by Anson Bailey, Head of Consumer and Retail, ASPAC and Head of Technology, Media and Telecoms, Hong Kong, KPMG China. The red and blue teams discussed the journey of technology and where they see it going in the future. On the blue team: Honnus Cheung, Co-Founder, Mojodomo Group, Fan Ho, Asia Pacific Chief of Staff and Head of Strategy, Lenovo, Max Song, Founder and President, Global Solutions Foundation, and Matthew Smith, Managing Director, Digital Insights and on the red team: Timothy Mak, General Manager, Signify, Charleston Sin, Executive Director, MIT Innovation Node, Sam Tan, CIO, HKBN, and Lucy Werner, Head of Cloud, Hong Kong, Google Cloud. The new wave of technology such as quantum computing and artificial intelligence is a journey which is opening more opportunities for human development. In the end, Ho brought the blue team to victory.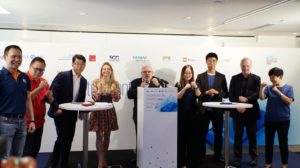 the debate
The human factor
There were further interesting panels on smart cities of the world, where data analytics and technology were key themes throughout the discussion; Covid-19 was covered in a panel and the all important human factor where education was highlighted and represented by King George V School noting that on-line was the big change from self isolation. There were international thoughts on the human side of networking and the spaces where it happens from key experts in London and Vienna, Austria. "A sense of community is not just the people but also the place."
Global platform of the future ?
An interesting session towards the end of the day was delivered via video by Michael Sung, Co-Founder of Fudan Fanhai Fintech Research Centre (FFFRC) and Chairman, Carbon Blue where he discussed the BSN network which launched earlier this year in China.It is an interoperable network connecting blockchain networks and has two layers of encryption.It is already operable with all major Cloud services and he believes is the global platform of the future-he talked about building on this framework with PPP models to get financial ecosystems and  digital economies in developing nations to form this global trust network -very interesting session.
The science of happiness
The first day of the StartmeupHK Festival wrapped up with Matt Phelan, Head of Global Happiness, The Happiness Index, who reminded us all that money cannot buy happiness and that the science of happiness lies in listening to people and understanding their needs. Employers and governments should listen to the voices of the people and work to provide them with the resources, time and salary they deserve. In hospitals, happier staff lead to better patient care and lower mortality rates.A thoughtful way of closing a jam packed day.