InnerGlow – new exclusive show at Tai Kwun, Hong Kong
A new signature event designed for the whole family starts at Tai Kwun's Parade Ground every evening during a 2-week season from September 10-25 (2022).
For the very first time, Tai Kwun has partnered with The Electric Canvas — Vivid Sydney's creative content and production company to create and project breathtaking animations and images onto the facades of Tai Kwun's historic buildings.
The Electric Canvas has been responsible for many of the most awe-inspiring architectural projection mapping shows which have illuminated Sydney winters in the last 12 years, as part of the festival of light, music and ideas – Vivid Sydney.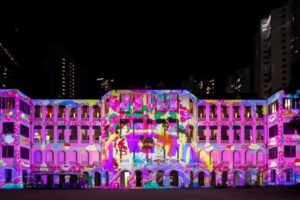 InnerGlow (2022) at Tai Kwun, created by Australia's The Electric Canvas. Image courtesy Tai Kwun. Photo: Jeff Cheng
The Parade Ground at Tai Kwun becomes a 3D wonderland of animated projections as the grand 160 year old Barrack Block takes on an almost human form – a world-weary dowager whose drowsy slumber and unreliable memories evoke nostalgia, pride, drama, excitement and rebirth in a series of reminiscences which dreamily blur fact and fiction.
Through the haze emerge scenes which contain fleeting glimpses of the building's history, but veer off-course as they mix and meld with dreams and other memories – a car chase in hot pursuit of a crime boss; high tea in Madame Fù's salon during the height of art deco chic in the 1930s; the feint pencil lines of an architect's ambitious plans sketched half a world away; an air-raid which scarred the whole city; turbaned police officers on parade; a devastating typhoon are some of the wonderful visuals combined with a nostalgic soundtrack.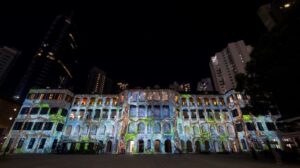 InnerGlow (2022) at Tai Kwun, created by Australia's The Electric Canvas. Image courtesy Tai Kwun. Photo: Jeff Cheng
InnerGlow uses the latest digital and 3D Mapping technology to project these images. Australian expertise combined with local content is encapsulated into an action packed twelve minute programme and entertaining for the whole family.
A special light installation has also been created for the Pottinger Ramp which, for the two week season of InnerGlow becomes the Pottinger River flowing fancifully into Hollywood Road.
With the financial support of the National Foundation for Australia-China Relations – an Australian Government initiative, The Electric Canvas participation has been made possible.
Peter Milne, Managing Director and Technical Director of The Electric Canvas commented "The Electric Canvas is delighted to be back in Hong Kong and to be given the opportunity to assist the creative and technical teams at Tai Kwun in the creation of a bespoke projection mapping installation for the inaugural InnerGlow event.  The opportunity to work with local skills and talent will provide valuable sharing of knowledge and experience to assist Tai Kwun to expand the InnerGlow festival from year to year."
A number of Hong Kong artists, illustrators and animators were invited to contribute to this first version of InnerGlow and will expand the circle of Hong Kong involvement in 2023 and 2024 by inviting young professionals and emerging artists in relevant fields to take up more and more of the creative and technical roles, under The Electric Canvas's guidance and mentorship.
The show starts at 7pm and will air again at 7:30pm, 8pm, 8:30pm, 9pm nightly- so don't miss out.