ICT Award Innovation – MoBiLET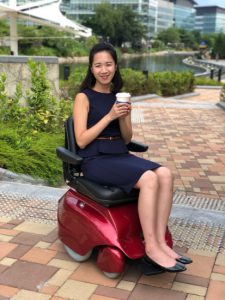 MoBiLET CARE
Increasing the mobility of the Golden-age people, raising their eye-level, personalizing their tech – all MoBiLET design goals – enhance their employability, living standards and social interaction.
As an ICT innovation, MoBiLET represents an example of making use of computing techniques to create a previously impossible physical device, and connecting a physical device with mobile phone, and hence to the Internet. This enables other ICT applications. MoBiLET balances on two wheels, allowing it to rotate in a circle of 70cm, saving space, compared to the 150cm turning circles of traditional electric walking-assistance. MoBiLET is light and agile, weighing around 50kg, less than the weight of the traditional electric walking-assistance. The mechanical design of the MoBiLET is simple, parts can be easily replaced and maintenance is easy. A Special feature of the MoBiLET is its built-in control system to maintain balance, even when the walking-assistance goes up a slope.
MoBiLET Fleet
The MoBiLET Fleet Solution is to setup personal transport devices in shopping malls and other premises enhance the user experience for seniors and their families, this is a win-win proposal for senior shoppers or those with motion challenges, shopping malls / facilities management companies. It combines a modern personal transportation device with the essence of an established client service system. This is not just a business solution for profit making, but a sustainable social impact project generates and benefits the ageing population in a way of mobility enhancement in a Smart City like Hong Kong.
For fleet enquiries please contact: binagupta@bg-bc.com