hyperscale data centre launches in Hong Kong
AirTrunk unveiled its first data centre in Hong Kong [December 10, 2020] to support accelerated cloud growth in the region. The scalable 20+ megawatt (MW) hyperscale data centre is a connected, secure, and efficient home for the cloud in Hong Kong.AirTrunk is the first Australian data centre business to open a data centre in Hong Kong.
The carrier-neutral facility, named AirTrunk HKG1, is strategically located near Tsuen Wan, a key hub for international connectivity. The location also offers access to robust, diverse, and reliable power infrastructure.AirTrunk converted an eight-storey industrial building into a world-class hyperscale data centre in record time to support cloud customers ramping up in the region. To do so, AirTrunk maintained strict protocols to protect workers from the risks of COVID-19, including onsite testing facilities, and partnered with suppliers to build key data centre components offsite in controlled environments.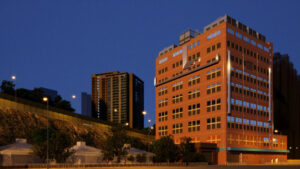 Robin Khuda,Founder and CEO of AirTrunk said "We're seeing record levels of demand for hyperscale infrastructure across the Asia-Pacific region. To meet this demand, we're building hyperscale data centres at record speed, safely and to the highest standards. We completed AirTrunk HKG1 in just over a year despite COVID-19," he said.Khuda continued, "the opening of AirTrunk HKG1 marks a key milestone in our expanding regional platform. We have an exciting year ahead with hyperscale data centres opening in Singapore, Sydney North and Tokyo along with major expansions of our Sydney West and Melbourne facilities."
To maximise efficiency in the local environment, a range of design innovations have been incorporated in HKG1, making it one of the most efficient data centres in Hong Kong with a power usage effectiveness (PUE) of 1.35. AirTrunk's Head of Hong Kong, KC Li, said AirTrunk will ensure the highest operational standards at HKG1."AirTrunk's clients benefit from our leading customer experience and hyperscale operations including world-class reliability, facility management and security. HKG1 has been designed to meet the stringent security requirements of our global technology customers (PCI DSS, ISO27001, SOC2 Type 2) and will deploy advanced access control, threat monitoring and detection systems," he said.
Mr Charles Ng,Associate Director-General of Investment Promotion at Invest Hong Kong,said, "the opening of AirTrunk's first data centre in Hong Kong demonstrates a strong vote of confidence in Hong Kong as a prime location for data centres in Asia. High-end data centres, like AirTrunk, can leverage the city's sophisticated high-tech infrastructure, tech professionals, reliable power supply, and robust enforcement of data privacy and security to expand in the region."
A consortium led by Macquarie Asia Infrastructure Fund 2 (MAIF2), a Macquarie Infrastructure and Real Assets-managed infrastructure fund, and including Public Sector Pension Investment Board (PSP Investments), acquired a majority stake in AirTrunk earlier this year. This investment will provide the necessary capital and expertise to further realise AirTrunk's expansion plans across Asia Pacific.