"Hong Kong is open for business"
The recent ScaleupSummit [May 25-26, 2021] as part of InvestHK's StartmeupFestival 2021 had nine different tracks over a two day hybrid conference in Hong Kong. This programme organised by WHub's well known duo Karena Belin and Karen Content with their capable team pulled off a stellar event across 4 stages as well as a job fair.
Opening up the event was a unique fireside chat between the Honourable Chief Executive of the HK SAR, Mrs.Carrie Lam and co-founder of WHub and AngelHub Karena Belin, stating that "Hong Kong is open for business". She welcomed and congratulated the 100 scaleups to be part of #SIS21 and the StartmeupHK Festival and explored the strength of the local tech and innovation ecosystem and opportunities in the Greater Bay Area.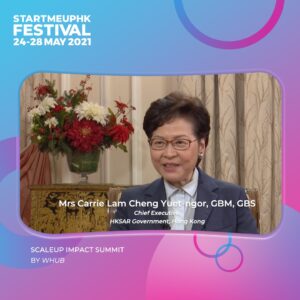 "To Those founders who have been selected by Scaleup Impact Summit  as one of the 100 scaleups, I wanted to congratulate you for your success", says Mrs. Lam. "Apart from to congratulating you, I want you to grow bigger and more powerful, and Hong Kong is the place to be if you have this ambition, because we have all the necessary ingredients for scaleups. Although we are a very small place, we already have 9 unicorns in recent years, the latest addition only happened within days, so that I hope gives you a taste of what you could achieve in this city of Hong Kong."
SIS21 showcased over 200speakers, experts, thought leaders, and panellists all designed to share, innovate and inspire the scaleup and tech community. Attendees had the opportunity to learn about scaleups,decentralization, blockchain, cryptocurrencies and NFTs, sustainability and Net Positive,the future of HealthCare, grassroot innovation, cybersecurity, startup and corporate co-innovation and, discover other tech and innovation ecosystems across the world including China, India, Israel, Europe and the USA.
The conference featured a series of keynote sessions, panel discussions, fireside chats and workshops over two days with speakers from some of the biggest players in the scaleup scene, including Sean O'Sullivan from SOSV, Yat Siu from Animoca Brands–HK's most recent unicorn, Esther Wong from Sensetime, Anne O'Riordan from Jardine Matheson, Jessica Lam and Jenny Lee from WeLab and, Lucy Liu from Airwallex. Speakers shared their personal scaleup journeys;discussed the cross-over between art and tech; successfully working with large corporations; responsible AI; and the future of work. Attendees had the opportunity to learn from the best in the industry such as crypto leader Henri Arslanian from PwC, Danny Lee from Blue Pool Capital and engage with speakers one-on-one.
The Scaleup Founder and CEO stage showcased over 100 leading international entrepreneurs of growth stage companies. Each  delved into frank conversations dedicated to their vision and business. The Venture Stage showcased investment trends and opportunities, scaling, and sustainability.Silicon Valley experts joined the Workshop Stage demonstrating the power of UXR and how to run successful Kickstarter and Indigogo campaigns.
Scaleups and investors also had the chance to learn about integrating Environment, Social and Governance (ESG) values into their business strategy."We attract and support some of the most successful scaleups worldwide, leveraging the power of our global community with over 500 partners"said co-founder & CEO of WHub and co-founder & COO/CFO of AngelHub Karena Belin.
"Hong Kong's tech and innovation ecosystem is thriving, and we've seen local and international startups using Hong Kong as a launch pad to scale in the region."said Jayne Chan, Head of StartmeupHK at InvestHK. "We are excited to see our growing traction internationally, helping to add further diversity to our ecosystem here and creating success stories in Hong Kong and the Greater Bay Area."