Hong Kong international airport upgrades and introduces Flight Token
Hong Kong International Airport has made major improvements and upgrades to airport facilities and operations during quieter Covid times.The Airport Authority continued to introduce smart technology for operations and customers, enabling less queuing time for check-in and, providing a more enjoyable customer experience.
InnovationHongKong had the opportunity to join a special tour with other fellow Directors, The Deputy Chairman and, the CEO of the Hong Kong Institute of Directors last month (August 2023) to view these upgrades and major developments first hand. Executive Director Finance, Julian Lee with Winnie Wong, Senior Manager Treasury and, General Manager Terminal Operations, Airport Authority Hong Kong,Wing Yeung, provided a comprehensive tour – which made for an interesting and eye-opening understanding. Very different to the usual rush to catch a flight.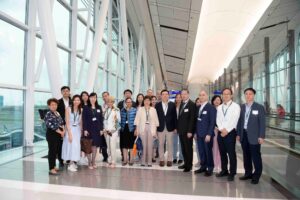 Hong Kong Institute of Directors tour
We were taken to areas not usually open to the public as well as introduced to the latest check in facilities with the use of "Flight Token". Passengers aged 11 or above and holding electronic travel documents can enjoy the Flight Token experience.
Smart Technology with Flight Token
Flight Token is a self-service kiosk which uses a biometric identification system. This allows passengers to enjoy a seamless departure journey at Hong Kong International Airport (HKIA) by creating a flight token which stores  travel document information and boarding pass.
Passengers can pass through various departure checkpoints – from check-in and bag drop to security checks and boarding – by simply showing their faces, and without having to present their travel documents and boarding passes again. Now that is smart !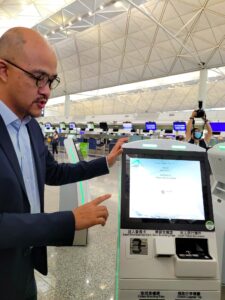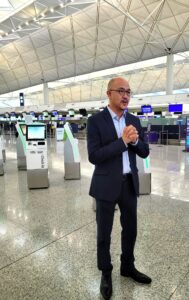 Wing Yeung explaining the New Flight Token system to the HKIoD group
The flight token system is already in use for Cathay Pacific Airlines and HK Express for certain destinations and is being introduced to other airlines over the next few months. All Nippon Airways, China Airlines, EVA Air, Japan Airlines and Thai Airways will all have this facility soon. Other passengers can still enrol for a Flight Token without baggage by scanning their travel documents and boarding passes at the e-Security Gates to enjoy a faster boarding experience afterwards.
It is not only about less waiting time when arriving at the airport to check-in– a lot of thought has gone into moving passengers through quickly from the time they arrive to clear immigration so that they can enjoy more of the airport facilities including new dining venues as well as shopping.
Upgraded facilities with Skybridge and Skydeck
Moving through immigration we entered an upgraded shopping experience with newly placed and designed luxury retailers, new ceiling design with LED lighting plus new flooring. There was a fun kids area installed nearby before heading onto travellators for the boarding gates too.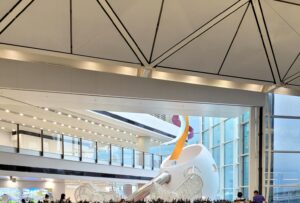 New Children's play area
A new Skybridge has been built for gates 13-22 (previously one would need to catch a train to get to these gates). We were advised that these boarding  gates are for narrow bodied aircraft. The Skybridge is quite dramatic. With floor to ceiling windows at perimeters it is not recommended to look down for those suffering from vertigo ! The new Skybridge connects terminal 1 with the North Satellite concourse. It was assembled in Zhongshan and delivered by a self propelled barge to Hong Kong in 3 segments.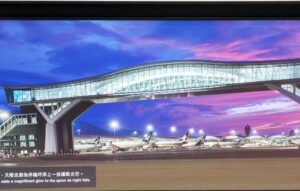 The new Skybridge (pic courtesy of HKIA)
A first in terms of a 24 hr (not operating as 24 hr just yet) self serving food and beverage shop at the beginning of this bridge extension was pointed out. It is currently being trialled as there are no staff whatsoever. This would be usual for the mainland traveller who have been using unmanned or contactless stores for some years now in China.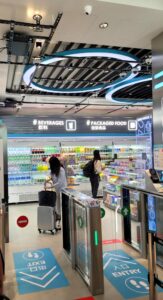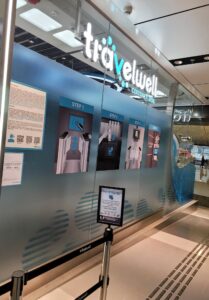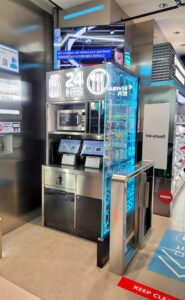 Contactless shopping 24 hrs at the new Skybridge connection
Transfers simplified to and from Macao and the Mainland
A new seamless transfer service was also introduced at the end of last month. This service is for air-to-bridge transfer passengers from overseas destinations, who travel by bonded bus from the airport to Macao via the Hong Kong–Zhuhai–Macao Bridge.
Either way passengers do not have to go through customs,immigration and quarantine procedures nor collect their baggage at Hong Kong International Airport with this new intermodal transfer service offered at the SkyPier Terminal. The process is as seamless as the air-to-air transfer within Terminal 1 or air-to-sea/sea-to-air transfer at Hong Kong International Airport's SkyPier. A great benefit for Macao passengers and their mainland counterparts and reinforcing the Hong Kong airport further as a major hub.
The third runway is already underway and a great view from the Skybridge. We were also able to view plans for the major SKYCITY development which will have three hotels and major shopping and dining (cited as ten times the size of Harbour City in Kowloon), retail as well as another entertainment complex next door to Asia World Expo. The level of construction work happening outside the airport as we entered and departed was dramatic and felt like a new city was in the making.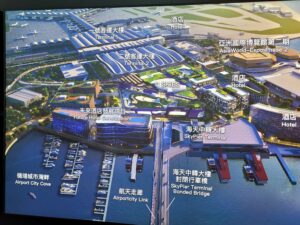 Skycity plan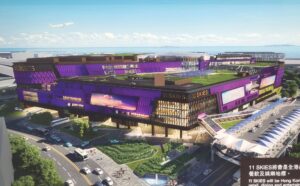 11 Skies complex (pic courtesy HKIA)
Looking after Airport Staff with Community Building
The Hong Kong Airport Authority also has thought about its own airport community – for those staff working long hours at the airport and anyone associated with work at the airport. A new complex adjoined to the Airport Academy has been built and opened in December 2022. We understand that even airline crew are able to use these facilities.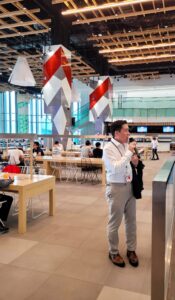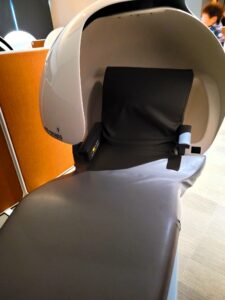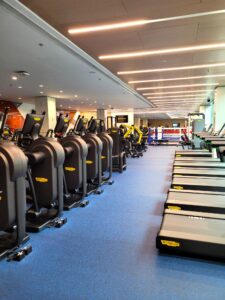 Julian Lee at the staff canteen                    Sleeping Pod                            Gym
We inspected a wonderfully designed staff canteen – which could have been within an airline lounge offering airport workers slightly cheaper pricing than in the airport; a large gym which opens twenty four hours and a special sleeping zone with private and comfortable sleeping pods, not seen in the general airport. This new staff facility is definitely a benefit for anyone working at the airport and we were grateful to have seen it. The Authority is trying to develop a very community feel about it where all staff are welcome.
Our last stop was to see an area usually closed to the public which was the Operations Centre. It was heartening to stand on the upper level and view the vast screens right across the semi-circular hall where one could check landings/takeoff data, luggage status and many more vital operations which new technology has enabled to provide further efficiencies. At any time one needs to look across at any of the screen displays to access what is happening real time…wow !
The airport is already using robotics for luggage stack/handling and autonomous vehicles on the tarmac and other areas within.
The smart technology introduced, connectivity with transfers,other internal upgrades as well as development of SkyCity are helping Hong Kong strengthen its role as a major innovative airport hub not only for passengers but for cargo as well.