Hong Kong FinTech Week on Nov 2-6 – receive your special discount now !
Hong Kong FinTech Week (HKFTW2020)is fast approaching on Nov 2-6, 2020 – the fintech virtual event, hosted by Invest Hong Kong and organised by Finnovasia. In its fifth edition,Hong Kong FinTech Week will feature multi-track conferences with prominent speakers,the Global Fast Track Programme,  networking opportunities and exciting insights into the latest FinTech trends in the industry.The event will livestream to audiences globally starting November 2 with major channels including- the Hong Kong Channel,the Future Channel,the Growth Channel and the Mainland China/GBA channel.
Innovation Hong Kong is again a proud supporter of this dynamic and important event and, provides you with a special 15% discount to attend – registration link with discount code to apply is listed below.
What's Happening this year
You will be able to meet and network with over 25,000 attendees online.You can speak directly with founders and C-level executives from the world's most innovative and leading FinTech companies 1 on 1 via a video call feature. You will be able to 'meet' with hundreds of potential buyers, clients, investors, startups and regulators.
The bespoke event app will enable you to visit the virtual expo which features an array of FinTech solutions from all over the world. Whether you are looking for a solution to optimise your business or simply want to stay abreast of the market trend, there will be something interesting and useful for you.
Especially for start-ups
There will also be a Global Fast Track B2B Programme for start-ups.
Do you have an innovative technology solution? Are you interested in scaling your FinTech business in Hong Kong and Asia? Apply for the FinTech B2B Matchmaking programme and submit your solution.Hong Kong FinTech Week's Global Fast Track Programme gives B2B FinTech scaleups the exclusive opportunity to access investors and some of the largest corporates in Hong Kong for potential deals!
Selected candidates will have a valuable opportunity to pitch for up to US$ 1 million investment commitment per company. Eligible companies can also apply for Hong Kong government funding support from USD 111,000 up to USD 2.6 million facilitated through InvestHK.
Companies can pitch their fintech solutions under the following 9 verticals:
Trade Finance
Capital Markets
RegTech
Retail Banking
Commercial Banking
Insurance
WealthTech
Payments
ERP and TradeTech
Entries close on September 13 so you better be quick if you wish to register. Click here for more details https://www.fintechweek.hk/globalfasttrack (now closed).
What you cannot afford to miss
♦ 2 November – Hong Kong Channel
Ray Dalio, Founder, Co-Chairman & Co-Chief Investment Officer of Bridgewater Associates
♦ 3 November – Future Channel
Adena Friedman, President & CEO of Nasdaq
Charles Li, CEO of Hong Kong Exchanges And Clearing
Jim Rogers, globally recognised investment expert and author
Neil Shen, Steward of Sequoia Capital, Founding and Managing Partner of Sequoia Capital China
♦ 4 November – Growth Channel
Ray Kurzweil, World-leading inventor and futurist
Martin Lau, President of Tencent
Yuri Milner, Founder of DST Global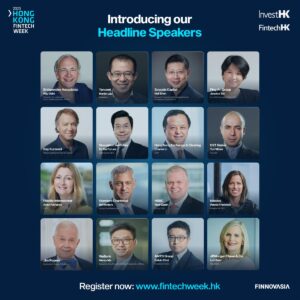 Eminent Speakers
More speakers this year include:
Anthony Thomson, Chairman & CEO, 86 400 (Australian challenger bank, launched by a founder of UK neobanks Atom and Metro)
Ning Tang, Founder, Chairman & CEO, CreditEase (WealthTech and Microfinance operator in Mainland China with USD 1B FinTech VC fund)
Staci Warden, Executive Director, Global Market Development, Milken Institute
Elizabeth Rossiello, Founder & CEO,Aza (blockchain-powered payments and remittances across Africa)
William Li, Co-founder and CEO, Akulaku (the leading e-commerce & lending platform in South East Asia, backed by Ant Group)
Henry Ma, CIO, WeBank (World's largest digital bank with 100M customers in Mainland China by Tencent)
Calvin Choi, Chairman & CEO, AMTD (Asia's leading comprehensive financial services conglomerate; JV with Xiaomi for Airstar virtual bank in Hong Kong)
Lizzie Chapman, Co-Founder & CEO, Zestmoney (India's largest digital lender to unbanked funded by Xiaomi)
Joseph Healy, Co-founder & co-CEO, Judo Bank (SME challenger bank with USD 1.5B in funding from Australia)
Vinay Bagri, Co-founder & CEO, NiYo Solutions (FinTech unicorn from India, backed by Tencent)
Anthony Thomas, CEO, MoMo (the leading FinTech in Vietnam, backed by Goldman Sachs and Standard Chartered)
Kathryn Petralia, Co-founder, Kabbage (Softbank-backed SME lender in the US with USD 2.5B in funding, recently acquired by AmEx)
Harshvardhan Lunia, Co-founder & CEO, Lendingkart (India's FinTech unicorn with USD 242M in funding)
Clay Wilkes, Founder & CEO, Galileo (AI powered payment platform in the US, acquired for USD 1.2B by SoFi)
Leanne Kemp, ,Founder & CEO, Everledger (Blockchain-enabled platform for asset ownership, backed by Tencent and Fidelity)
Coen Jonker, Co-Founder & CEO, Tymeglobal (South Africa's first fully digital bank going international)
Steve Weston, Co-Founder & CEO, Volt Bank (Australian challenger bank with $78.5M in funding)
Jonathan Larsen, Chief Innovation Officer/ Chairman & CEO, Ping An Group/ Ping An Global Voyager Fund (Managing $1B fund that invests in FinTech and HealthTech globally)
Kathryn Petralia, Co-Founder & President, Kabbage (SoftBank-backed SME lender with $2.5Bn funding, recently acquired by AmEx)
Renaud Laplanche, Founder & CEO, Upgrade (US neobank launched by the founder of Lending Club with $202M funding)
Sergio Furio, Founder & CEO, Creditas (Softbank-backed digital consumer loan company from Brazil with $314M funding)
Van Le, Co-Founder & Chief Strategy and Innovation Officer, Xinja Bank (Australian neobank with over $200M funding and $100M+ in deposits)
Antony Jenkins, Founder & Executive Chairman, 10x Future Technologies (Banking Ping An-backed digital banking platform founded by ex-CEO of Barclays)
Oliver Hughes, CEO, Tinkoff Bank (Russia's leading online bank with 12M customers and $470M+ net profit)
Paolo Azzola, Chief Operating Officer, PayMaya (E-wallet in the Philippines with $215M in funding, backed by Tencent)
Dongliang Xu, VP Technology, Du Xiaoman / Baidu (FinTech arm of China's tech giant Baidu with $4.8B in funding)
Yu Chen, CFO, FUTU (Tencent-backed online brokerage platform in Hong Kong with $285.5M in funding)
Jeremy Allaire, Founder & CEO, Circle (US crypto unicorn with $270M raised; backed by Goldman Sachs and Baidu)
Joseph Lubin, Founder & CEO, Consensys (Building Web 3.0 on Ethereum blockchain globally)
Full Agenda can be viewed here:
https://www.fintechweek.hk/agenda?mc_cid=4851bb3db7#/2020-11-02
How can I get Innovation Hong Kong's special 15% discount ?
Innovation Hong Kong offers you a special 15% discount to attend this event
Please click to register here:  https://www.fintechweek.hk/tickets
and where it states discount code apply this code: INOHK15
We hope you enjoy it and see you there !