HKEX celebrates 21st anniversary
Hong Kong Exchanges and Clearing Limited (HKEX) marked the 21st anniversary of its listing in Hong Kong with a celebration ceremony held at HKEX Connect Hall on June 16 [2021].Carrie Lam, Hong Kong's Chief Executive was guest of honour and with Paul Chan,Hong Kong's Financial Secretary joined HKEX Board Directors and senior management for the event.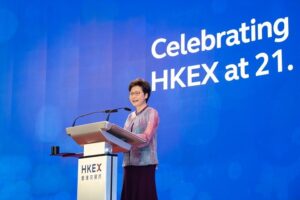 "Hong Kong lives up to our reputation as an international financial centre – rules-based, reliable and resilient. And HKEX has certainly stood strong in the challenges of the last two years, contributing significantly to Hong Kong's status as a premier fund-raising centre and an international financial capital. To stay ahead of the game, especially in a highly competitive sector like finance, we need to stay alert, seize opportunities timely, innovate continuously and apply technology vigorously," said Hong Kong Chief Executive Carrie Lam.
"My congratulations to HKEX on its 21st Anniversary, and I look forward to working together with the Exchange in the coming years to build a bright future for Hong Kong," she added.
HKEX Chairman Laura M Cha said: "HKEX has demonstrated the forward looking reinvention traits that so famously characterise Hong Kong, cementing its relevance as Asia's global marketplace, playing an ever more critical role in connecting China with the world, and the world with China."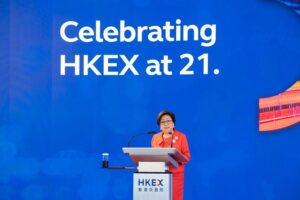 Mrs Cha added: "Rooted in our community, HKEX has also become a sustainability change agent, helping Hong Kong listed issuers and our market transition towards a greener, more sustainable future. We look forward to the next 21 years ahead!"
HKEX's new Chief Executive Officer, Nicolas Aguzin said: "HKEX is woven into the fabric of Hong Kong and today it underpins one of the most important and vibrant international financial centres in the world. But however rich the trappings of the past, we know we must never stand still."
"We have a big role to play today, and in the years ahead, as one of the world's premier markets; as a trusted destination where the world comes to trade Asian and Chinese underlying; and as the gateway to the most exciting economic growth story in memory, perhaps ever – China," said Mr Aguzin.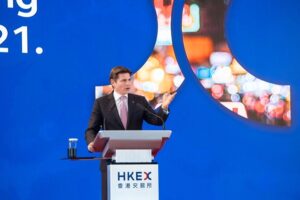 As part of the ceremony a new corporate film was unveiled highlighting the importance of connectivity and sustainability in the future of Hong Kong's financial markets.
HKEX was established following the merger of the Stock Exchange of Hong Kong, the Hong Kong Futures Exchange, and the Hong Kong Securities Clearing Company in 2000. It has played a central role in the growth and development of Hong Kong's financial industry, building the market, driving quality and attractiveness as a listing, risk management, trading and investment centre and underpinning the reputation of Hong Kong as a world-leading international financial centre.
Total market capitalisation of Hong Kong's cash equities market reached $53.3 trillion in June 2021, up from $4.86 billion in 2000; while the cash market's average daily turnover jumped to $197 billion so far this year, from $13 billion in 2000.
In Hong Kong's derivatives market, an average of 1.26 million contracts have been traded every day so far this year, up from  37,500 average daily contracts in 2000. HKEX itself, has seen its revenues increase seven fold between 2000 and 2020.