High-Speed Electric Motorcycles, New Technologies in US for First Time
Yadea, a leading electric two-wheeler brand, made its debut at the Consumer Electronics Show (CES) in Las Vegas, Nevada, unveiling a range of new products and technologies in its 2023 product launch. This was the debut appearance for Yadea at CES, which saw the US debut of the all-new high-speed straddle electric motorcycle series Yadea Keeness VFD and the high-speed pedal electric motorcycle Yadea E150.
Electric motorcycles
The Keeness VFD model is equipped with a 10KW mid-mounted high-performance motor and features a maximum speed of 100km/h, and an acceleration from 0-50km/h in just 4 seconds. The battery utilizes automotive-grade ternary lithium technology and is equipped with an intelligent energy recovery electronic control system, which enhances power and extends the battery life of high-speed electric motorcycles.
Also on show, the Yadea E150, a high-performance electric scooter that boasts a peak power of 5KW, a peak torque of 160Nm, and a top speed of 80km/h. Showcased throughout the exhibition, the Yadea E150 also featured Yadea's  super-fast charging technology- the motorcycle can be charged up to 80% full power in just 20 minutes.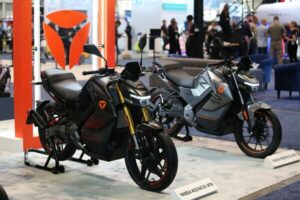 Yadea electric motorcycles debut at CES 2023
E-bike models

Yadea also introduced its series of ebike models equipped with high-performance motors featuring a five-year warranty. The company has been in the ebike market for six years and has developed mature smart sensor motor technology, offering a smooth and powerful gear-shifting experience for riders.
The Yadea Innovator, one of the models released at CES, is the company's first AI-powered electric folding bike and won the 2022 American Outstanding Industrial Design (IDEA) Award. The Trooper 01 model features a dual motor drive and rear hub motor technology with a peak power of 1000W and 750W, while the Camper model, set to be released in March, will also be equipped with the same motor.
US market
Data shows strong growth in the electric bike market in the US, with e-bike sales seeing an increase of over 300% in the first quarter of 2022 and 4.8 million units projected to be sold by 2025. Yadea is well-positioned to take advantage of this growth, with a strong global presence and a mature product development resulting from significant investment in research and development.
In the US, the company plans to distribute high-quality products through various channels, including retail stores, online sales, and exhibitions. It also plans to open flagship stores in San Francisco and Los Angeles and 100 Integrated brand dealer stores in the first half of 2023. In addition, Yadea will enter large-scale stores across the US, launch an online ebike independent website, and offer professional maintenance outlets and door-to-door services for after-sales support.
Global
Yadea is a global leader in developing and manufacturing electric two-wheel vehicles, including electric motorcycles, electric mopeds, electric bicycles and electric kick scooters. To date, Yadea has sold products to 60 million users in over 100 countries and regions and has a network of 40,000+ retailers worldwide.
Yadea is accelerating its globalization strategy with milestones in R&D, manufacturing, marketing, and branding. The brand is dedicated to providing innovative and high-quality electric vehicle products and technologies that enhance people's daily lives, aligning with its brand mission of "Electrify Your Life." Yadea's participation in the exhibition served as a strong opportunity for the brand and reinforcing its dedication to globalization and green solutions.
Pic: Yadea