Who Won a Gold Award at DFA ?
Gold Award
Thule Yepp Nexxt Maxi (Child Bike Seat)
Winning Company: Thule Organization Solutions Asia Pacific Ltd., Hong Kong
Product & Industrial Design – Professional & Commercial Products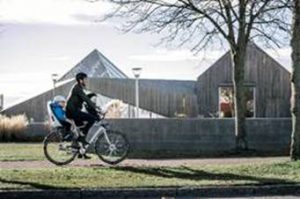 The Thule Yepp Nexxt Maxi child safety seat allows children from nine months to six years of age to enjoy the thrill of hitching a ride on two wheels in style. The seat can be mounted quickly on the rear rack of a bicycle. The adjustable five-point harness, called the "universal mount," provides a custom fit and secures the seat to the bicycle in order to give the rider the perfect peace of mind that the child passenger will enjoy a safe ride. To secure the child in the seat, the childproof magnetic safety buckle and belt work in tandem with the foot rests and foot straps, which are adjustable to fit the growing child passenger.
The DFA Awards were held on December 6, 2017 and organised by The Hong Kong Design Centre (HKDC) with Create Hong Kong of the Hong Kong Special Administrative Region Government as the major sponsor.
DFA Awards offers a stage to some of the most dedicated talents, encouraging the growth of creative industry and providing a platform to establish networks with influential designers and business leaders.
Source: Sinclair Communications