Future Tech Expo & Summit -September 12-13, 2022
Future Tech Expo & Summit, is back, taking place from 12 – 13 September 2022, as a hybrid event (In-person and online) at the Oman Convention & Exhibition Centre, Muscat. InnovationHongKong® is proud to be supporting this event after a successful launch event in 2020.
The event is under the patronage of the Ministry of Transport, Communication and Information Technology; endorsed by the Vision 2040 of the Sultanate of Oman and Telecommunications Regulatory Authority, Sultanate of Oman.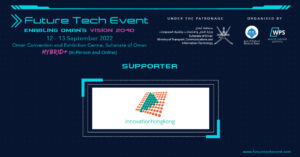 The progressive agenda at the Future Tech Event will explore trends driving innovation, optimization and improvement across the industries. It will feature an expansive line-up of stellar speakers, case studies, panel discussions, unique presentations providing access to a wealth of industry leading knowledge, sharing best practices and experiences, spotlighting trends, information exchange, insights and outlooks with actionable takeaways.
The Event will feature a comprehensive B2B Expo showcasing avant-garde solutions, specific, transverse, latest technologies, cutting edge innovation, unique launches, cost-effective products, services and solutions that are customized to adapt to the given demands across all sectors. Some of the tech on show includes:
3D Printing
Telecom & 5G
Big Data & analytics
Blockchain
Cyber security
Digital transformation
Drones & UAV
E-commerce
VR|AR|MR
Edutech
Robotics
Fintech
Future mobility
Smart cities
Worktech
Emerging tech
Collaboration between technology organizations, investors, startups, small medium enterprises and entrepreneurs is instrumental in driving digitalization. There will be a special focus on promoting startups at the Future Tech Event.
250+ carefully selected senior leaders and decision makers (C Level and CISOs) responsible or influencing IT and Technology strategy at their organizations, are invited. More than 1000 industry experts, decision makers, technologists, entrepreneurs, investors, academia and more, are expected to be in attendance.
The Event will facilitate unparalleled networking and business matching-making, providing a catalyst for investments, partnerships, business growth and development in the Sultanate of Oman's technology sector.
There will be a stellar line up of speakers including some already announced with topics as follows:
 Hamdan Mohammed Said Al Alawi. Team Leader – National Program for AI and Advance Technology Ministry of Transport, Communications and Information Technology (MTCIT) Topic : The Executive Program for AI and Advance Technology
Beverly Rider. Chief Commercial Officer NEOM Tech & Digital Company.Topic : Making the Metaverse more human
Ghadir Al-Ansari.Head of Financial Technology (FinTech) Unit, Central Bank of KuwaitTopic : The Regulatory Sandbox – Central Bank of Kuwait
Dr. Tim

Nedyalkov, Technology Information Security Officer,

Commonwealth Bank of Australia. Topic : Future-proofed Cyber Security Strategy
Rahaf Mahmmud Ali Educational Technology Trainer CYPHER LEARNING.Topic : Understanding the Impact of an Intelligent Learning Platform on Skills Development.
H.E. Belal Khaled Al-Hafnawi Commissioner – Member of the board Telecommunication Regulatory Commission, Jordan.Topic : Digital Transformation and Future Work after Covid
Alex Lee,Managing Director, China Mobile International Middle East. Topic : Digital Transformation Empowered by 5G and its Commercialization
Dimitrios Kalogeropoulos, PhD Digital Health and Innovation Expert, World Health Organization Topic : The Digital Ecosystems Ethics Challenge, AI and Economies of Circular Innovation
Sid Ahmed Benraouane, Advisor ISO. Topic : AI Trustworthiness: An ISO Persepctive
Alex Mashinsky, CEO Celsius. Topic : All Roads Lead to Decentralization
Latifa Alshehhi, Data Management Manager Road and Transport Authority UAE.Topic : The Data Revolution – A New Paradigm
Dr. Amy Hochadel,Director, Global Business Growth Connected Places Catapult Topic : Smart Cities and the Built Environment and the work CPC has done/ is doing in Oman
Erika Piirmets, Digital Transformation Adviser e-Estonia Briefing Centre Topic : e-governance on Estonia's example
Jesus Ibanez-Parra AI Program Manager Al-Futtaim Group.Topic : Data Science in the Enterprise: Best Practices for Success
Abdullah Al Jufaili AGM – Digital Banking Bank Muscat.Panel Discussion: Future of Payments
Ghadir Al-Ansari,Head of Financial Technology (FinTech) Unit,Central Bank of Kuwait.Topic : The Regulatory Sandbox – Central Bank of Kuwait
We will update with more speakers soon.
To attend the Conference as a Virtual Delegate, the price is USD 199/- per person. Members of InnovatorsClubAsia® will receive a 25% discount when using the discount code which can be accessed here:
https://innovationhongkong.com/gallery/member-promo-code-for-future-tech-expo-summit-september-12-13-2022/
Please be logged in as a member to access this. If you are not a member yet you can easily register and pay voa the homepage of the website and enjoy the benefits which include discounts to major events globally.
For further information you can visit the website here: Event Website