Future Human-hybrid tech event October 2020
Future Human, organized by Silicon Republic, will host the world's first major international hybrid tech event on October 29th and 30th, 2020 from a purpose-built, state of the art broadcast stage in Dublin.
With a line-up that includes Cambridge Analytica Whistleblower Brittany Kaiser, former NASA astronaut Joan Higginbotham, Emmy-award winning Felix Lajeunesse of Felix & Paul, composer and Oscars ceremony conductor Eimear Noone, young entrepreneur Shane Curran- this will be an event not to miss. More big name announcements will be released in the coming weeks. Innovation Hong Kong is proud to be supporting this event.
The six pillars that will be covered include the future of work, AI & robotics, urban future, business & security, earth future and life sciences/health.
Founder and curator of the event, Ann O'Dea, advised "We spent the last few months assessing the progress of the pandemic, trialling potential platforms and visiting studios, and we've come up with what we believe is a dynamic and creative event in October. We were never going to be happy with a glorified webinar, so we've gone all out with a full purpose-built broadcast-standard studio in Dublin, from which we'll run the entire show live. Yes, the majority of our attendees will be attending from the comfort of their own homes and offices, but we plan to stage a full, live event, which will be very far from simply an online conference." she added.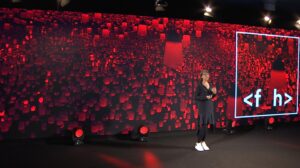 Ann O'Dea, Founder & Curator of Future Human live on stage
Many of the speakers over the two days will be live on-stage, while those unable to travel due to the ongoing pandemic, will be able to dial in seamlessly to the stage, with interviewers and MCs moderating live from Dublin, including O'Dea herself and guest chairs that include BBC broadcaster Dearbhail MacDonald.
More small, in-person gatherings are planned to be included around the main event depending on the prevailing situation with Covid-19 (and will be determined in October). All the main stage talks, masterclasses and workshops – even a virtual exhibition – will be available to all ticket-holders online. Event timings have also been designed to facilitate overseas viewers, as well as domestic attendees.
Innovation Hong Kong readers can enjoy a special 10% discount on executive and standard tickets by entering the code: HKIFH10 when registering and purchasing tickets here: https://www.futurehuman.xyz
We hope you enjoy !