first plug-and-play solar energy storage system for balconies launched
Zendure– a fast-growing energy-tech startups based in Silicon Valley in the US, Greater Bay Area China, and Japan – launched "SolarFlow" in March [2023], the first plug-and-play solar energy storage system for balconies.
It is composed of a PV hub and up to four batteries, is compatible with common balcony solar panels, allowing apartment and condo dwellers the opportunity to store valuable solar energy during the day and use it at night. The capacity of up to 3,840Wh is sufficient to provide night-time power for a family of four – and all their critical devices and appliances.
High energy prices are a financial burden for many, and the call for sustainability in everyday life is getting stronger as more people are turning to renewable energies and investing in their own photovoltaic (PV) systems to produce electricity independently. The German government also recognizes the need to support solar energy and has recently been making the purchase of solar systems and the associated electricity storage systems and inverters more affordable-making them tax-exempt and saving consumers 19 percent.
Solar energy storage for balconies – manufacturer-independent, user-friendly, and cost-efficient
The "Solarflow" storage system can be purchased as a complete package with a solar panel and micro-inverter from Zendure. Thanks to its compatibility with existing balcony solar panels on the market, it also can be used regardless of the manufacturer.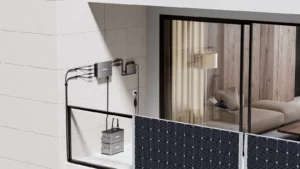 Solarflow for balconies
Consumers who already have solar panels for the balcony and a micro-inverter can easily connect SolarFlow to the existing equipment with an MC4 connector. It includes a PV hub that connects with 800W solar panels and a smart battery management system with LFP batteries. A single battery has a capacity of 960W but can be expanded to 3,849 Wh by connecting it with up to four other batteries. This is enough energy for couples and families. Using two SolarFlow batteries results in an average annual electric bill saving of 32% for a family of four, who consume an average of 9.5 KWh each day, while an 800W solar panel generates an average of 3 KWh per day.
Key features at a glance
Compatible with balcony solar panels and micro-inverters available on the market
Storage capacity of 960Wh with one battery and 3,840Wh with four batteries
PV hub with 800W output
Connection to solar panel and micro-inverter by MC4 connector
Maximum energy output through dual maximum power point tracking (800W input/1200W output)
Smart AIoT control via app
As of April (2023) Solarflow is available in Europe.
Zendure's purpose is to help make energy available and accessible when and where it is needed the most. Its mission is to democratize the latest Battery Technology to deliver clean and affordable electricity via devices and services suitable for on-grid and off-grid living. This will power on-grid and off-grid lifestyles alike in a clean and affordable way.
Source Pic: Zendure USA Inc.