Finding the investment sweet spot for vanilla cultivation
Access to natural vanilla is a challenge for the food and pharmaceutical companies that use the spice. It is typically hard and slow work to cultivate it, with choppy supply due to factors including adverse weather and social instability in some of the countries growing it, but demand is increasing globally, and that can translate to higher prices.
Investors in vanilla cultivation often mention three major hurdles: ensuring a stable supply, guaranteeing its quality, and profitability. Nonetheless, as the COVID-19 pandemic is receding, vanilla distributors are optimistic regarding global trade, particularly because food-ingredient authenticity and labelling is being scrutinised like never before, by consumers.
Vanilla orchids cultivated in the open, thrive in environments near the equator, in countries such as Uganda, Mexico and Indonesia. But a little further south, Madagascar is responsible for about two-thirds of the world's production of natural vanilla. In most cultivation countries, however, the plants only bloom once a year, and most harvesting occurs from June to August.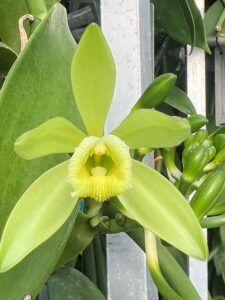 vanilla orchid
Some manufacturers using the spice have invested directly in grower locations. In 2017, Switzerland's Firmenich SA, a fragrance and flavour producer; France-based food company Danone SA, and United States-based food conglomerate Mars Inc, announced they would make a significant investment in a "large-scale, innovative" vanilla-farming setup in Madagascar.
Outdoor cultivation of vanilla, however, has recently faced a number of challenges, the most problematic being climate change, and the negative impact it has had on global production of the spice.
Cultivating natural vanilla means pollinating orchids by hand and "curing" the beans in the traditional method. As demand for vanilla far exceeds supply from traditional farms, companies synthesise vanillin – the main flavour component of cured vanilla beans – from various raw ingredients.
According to the "Vanilla Market Insight Report" for the years 2023 to 2029 by India's Absolute Reports Pvt Ltd, published in March, the global market for natural vanilla was worth nearly US$3.08 billion in 2022, and could see 5.52-percent compounded annual growth, to reach nearly US$4.25 billion annually by 2028.
Interest in the product is only rising. Modernisation of vanilla bean processing facilities by investors such as flavour and fragrance producer Symrise AG in Madagascar, has been in tandem with high demand for natural and organic vanilla products. There has also been growing awareness of vanilla's potential for medicinal usage.
According to a January 2022 study by AgriFutures Australia, about 1,000 vanilla vines were considered "adequate" for sustainable earnings. A size beyond that would "add value to business sustainability, i.e., farm profitability and return on investment".
Against that backdrop of growing interest amid currently limited supply, a Sydney, New South Wales entrepreneur has pledged to help existing growers – and ones new to the crop – to revolutionise cultivation practices.
David Soo's Australian Vanilla Plantations Pty Ltd has been developing greenhouse-based cultivation, instead of the open-air growing done in traditional markets.
Natural: but done better
"We had to effectively rewrite everything that we believed or were told about vanilla. It didn't make any sense to us" to cultivate it the conventional way, notes the entrepreneur, speaking to InnovationHongKong|innovationasia.
He says that under the traditional system, it can be "three years" from planting of the vines, before getting the flowers needed for generation of the vanilla pods. "Then by the time you get to first harvest, it could be up to about three-and-a-half, four years," states Mr Soo. That is not even considering other factors such as adverse weather conditions. Madagascar has been affected by a prolonged cyclone this year.
His answer was to allow vanilla vines to maximise their natural potential, not by intervening with nature but by supporting natural processes. That was done by using geodesic domes that can support the vanilla vines' temperature preferences but at latitudes outside their normal environment; rotating their soil beds to maximise the available sunlight; and not forcing the vine to climb too far from a nutrient source.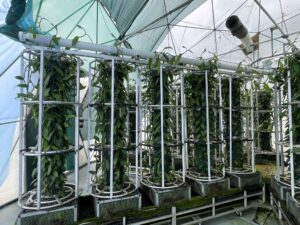 vines growing in domes in Australia
His multi-step approach to the problem began nearly a decade ago, including collaboration, from 2015, with Western Sydney University, which had been doing research on the issue of vanilla growing. His company has since advanced its own knowledge beyond those initial findings, says Mr Soo, though his relationship with the university is ongoing.
There are plans to locate more than 100 domes for vanilla production at an agriculture technology precinct linked to the university. It is not far from the site of a new international airport for Sydney being built at Badgerys Creek, west of the central business district. The location allows easy access for potential international customers of his system. He has recently had visitors from respectively Germany and the U.S., to look at his technology.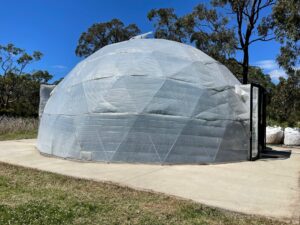 Vanilla Plantations' patented domes
"We can probably produce as much" in a dome of 100 square metres, "as 1,000 square metres" under traditional cropping, says Mr Soo. "It's now our view that it is not an air plant by choice. If it can get its roots into the soil, it will. Our system is designed to reduce the nutrient pathways by bringing the soil as close to the parent plants as possible," states the businessman.
The flower is the money maker. Each needs to be pollinated, but growers even in open-air cropping, don't leave that to nature. "There's a flap that separates the male part [of the flower] – the pollen – from the female part. You're just lifting that away and then squeezing the two parts together for basic pollination," explains Mr Soo.
Having more flowers per square metre, means less time finding the blooms, and less time walking around the plot. "I'll never say we have a 100 percent success rate with pollination, but I will say 90 percent: quite easily."
Finding the right 'cure'
Even after successful pollination, the resulting raw green vanilla bean needs to be 'cured', and this says Mr Soo involves an "enormous amount of intellectual property" on his side, in order to reduce the wastage rate associated with traditional methods of curing.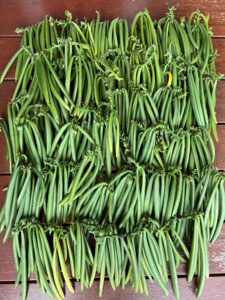 harvested green beans for curing
Modifications to curing practices nonetheless ensure the end product still preserves the many chemical compounds that give natural vanilla its unique sensory finesse, compared to only five chemical compounds found in synthetic vanilla.
Natural vanilla only supplies "2 to 3 percent of world demand, the rest is all synthetic: it's artificial," says Mr Soo.
His estimate is that in terms of 'cured' beans – i.e., ready for use as a food or other product additive – annual global output is currently "maybe 3,000 to 4,000 tonnes if you're lucky," compared to wheat production "in the millions" of tonnes.
"Once you're able to stabilise" basic production and curing of natural vanilla, "you can then begin to look at a very small futures market" for it, states Mr Soo.
In terms of 'raw' – i.e., uncured – vanilla, statistics from the Food and Agriculture Organization of the United Nations clarify the top-five producers in 2021, the most recent available data. In descending order, they were: Madagascar, with nearly 3,071 tonnes; Indonesia, with 1,456 tonnes; Mexico with almost 610 tonnes; Papua New Guinea with 490 tonnes; and China with nearly 439 tonnes. Turkey was a distant sixth, with 372 tonnes.
Mr Soo says India is catching up, and currently produces "about 6 percent" of world vanilla supply. He adds referring to his own company: "We are scaling, we are setting up production facilities in India, to actually build hundreds if not thousands of domes a year."
An aim is to introduce his system to traditional growers around the world. "We're not trying to take away their supply. We're trying to support the industry by bringing in some level of supply assurance," he states.
"Our business model is that we will help them grow their vanilla," and offer them a "very fair market price," states the entrepreneur. "We have a programme that not only pays the farmers," but also supports their communities, he adds.
Picture Source: Vanilla Plantations Pty Ltd