Embed Is First-to-Market With the Mobile Wallet
Delivering the Next Generation in Cashless Payments for the FEC Industry
Embed is first to go-to-market with the Mobile Wallet, a virtual game card that can be added to the Apple Wallet (on the IOS platform) and Google Pay (on the Android platform), and used to seamlessly play games.
It has the exact same functionality as the game card, but sits in the guest's mobile wallet, enabling guests to tap and reload without leaving the game, while operators drive return visits and get to know customer behaviour, usage and spend habits.
Embed is the worldwide leader of cashless business management systems and solutions for the amusement, entertainment and leisure industries. Designed to deliver a superior guest experience, the Embed platform is a complete integrated cashless solution for business owners to maximise revenue and operational efficiency while reducing costs.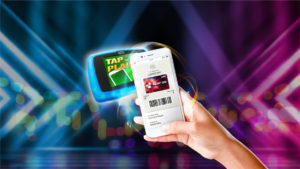 With Embed's platform, a business (single or multi-location) has real-time visibility and control across its entire operation: from guest party-planning and bookings via mobile to integrated point-of-sales, including bundles and upsell packages, a full range of games management, real-time prize inventory, game card kiosks and so much more. All integrated and accessible via mobile.
The only non banking finance payment business that sits in the mobile wallet
This development and offer make Embed the only non-banking finance-payment or loyalty-card business and brand card that sits in the mobile wallet. "We are very excited to be the first and only FEC cashless business solution to offer the Mobile Wallet," said Renee Welsh, CEO, Embed. "This breakthrough enables any business currently using the Embed TOOLKIT system (Kiosk, game cards, smartTOUCH readers and range of business solutions) to simply add the Mobile Wallet (Mobile Portal) module to their existing business solution and offering it to their customers."
Other Benefits
Embed's Mobile Wallet is part of the Embed Mobile Portal which is cloud based so no application download is required. Guests can  reload their virtual game card anytime, anywhere -they can increase spend and reduce dwell time by simply topping-up without leaving the game. Game card related information is protected by advanced security and encrypted mobile technology so there is no risk to operators.
Source: Embed