Driverless car services expand to Wuhan airport in China
Baidu Inc. a leading AI company, announced (August 2023) the expansion of Apollo Go, its autonomous ride-hailing platform, to expand its driverless car service to cover Wuhan Tianhe International Airport. It is China's first-ever provider of autonomous rides to and from airports.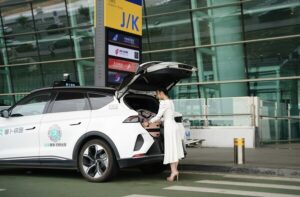 Baidu's Apollo Go has had remarkable growth with a high user satisfaction in the China market. The average user rating was 4.9 out of 5 on the Apollo Go app in Q1 2023, with 97.12% of ratings being a full 5 points. By the end of  Q1 2023, the company provided a total of more than 2 million rides, making Apollo Go the world's largest autonomous ride-hailing service provider.
The platform has also seen rapid growth in its active user base and user engagement. In 2022, the number of active users nearly doubled from a year earlier, and the percentage of users who took rides more than 4 days per month increased by 8.06% from the previous year.
It is the first time in China that an autonomous ride-hailing service has been established between urban areas and an airport, as well as the first instance of Chinese autonomous vehicles connecting both urban roads and highways. The service is currently offered to selected Apollo Go users by invitation, and will be made available to the general public in September 2023.
Baidu has now unlocked more challenging operation scenarios for its robotaxi fleet, making autonomous ride hailing services more accessible to the public. In August 2022, Baidu received China's first-ever permit to offer commercial fully driverless robotaxi services to the public on open roads, and Apollo Go began providing commercial robotaxi service in Chongqing and Wuhan, two of China's largest megacities.
In June this year, the company obtained licensing for commercial operation of its fully driverless ride-hailing service in Shenzhen. Baidu robotaxis are now authorized to provide ride-hailing services with no safety operator present in the car.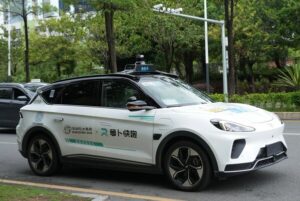 This makes Shenzhen the fourth city in China where such a service is available, following Wuhan, Chongqing and Beijing. With this new license, Baidu's Apollo Go robotaxis are allowed to operate across an area of 188 square kilometres in Shenzhen from 7 a.m. to 10 p.m. daily, catering to both morning and evening commuters. Users can conveniently access the service by using the Apollo Go app or mini-program, as well as Baidu Maps, Baidu App, and other platforms.
Tianhe Airport in Wuhan, is one of China's eight major regional hub airports. It is located 25 kilometres from the centre of Wuhan and has transported a total of 125,000 international regional passengers this year. The airport's daily flight limit has increased from 700 to approximately 1000 flights, making it the leader in flight scheduling capacity in the central China region and one of the top airports nationwide.
Following the expansion to cover the airport area, Apollo Go will continue to expand its presence in Wuhan, with plans to bring its services to the city's Jingkai District, Hanyang District, East and West Lake District, Qiaokou District, and other core areas of the Jiangbei area in the future.
Picture Source: Baidu Inc.