Cyberport Venture Capital Forum Returns to Explore Latest Trends in Venture Capital
Engaging over 100 speakers in a brand-new hybrid format and facilitating deal flow between investors and start-ups
As the digital technology flagship of Hong Kong, Cyberport is dedicated to facilitating deal flow for start-ups and enriching the regional venture capital landscape. The main forum of CVCF2021, being held from November 2-3, gathers more than 100 international and local experts from major industry players, including Alibaba Group, HKEX, Founders Space, Verizon Ventures, Two Sigma, Lever VC, Gobi Partners China, and IESE Business School, who will conduct in-depth discussions and sharings on popular areas in the tech venture landscape. Topics to be covered include disruptive tech (NFT, robotics, foodtech, etc), FinTech/cross-border financing, 5G technology and family offices. Also prominent will be emerging investment themes such as the new space economy, special purpose acquisition companies (SPACs), and the topic of environmental, social, and governance (ESG).
This year's event will present a brand-new hybrid format with a unified experience of online and offline engagement, allowing start-ups to interact with potential investors in the physical forum while showcasing their innovative tech solutions using the virtual platform. This multi-channel set-up enhances global exposure, facilitates deal flow and provides extensive opportunities for start-ups to explore fundraising opportunities.
This platform allows more global venture experts and entrepreneurial leaders to be included to offer insights into the latest fundraising strategies, market dynamics, value creation as well as on the tech and venture ecosystem. In addition to the broadcasting forum and workshop content available to a global audience 24/7, the virtual platform features an Innovator Showcase for promising start-up exhibitors and an exclusive Investor Matching platform which allows more than 100 Cyberport technology and innovation companies to link up with investors.
The forum will also invite the Asia Technology Entrepreneurship Conference (ATEC), which is composed of Ivy League university alumni clubs, for discussion sessions for the first time. This will attract international investors to learn more about Hong Kong start-ups.
Peter Yan, CEO of Cyberport, said, "The COVID-19 pandemic has lasted more than a year, yet the strong resilience of the I&T sector has led to major fundraising deals, driving the venture capital market to record levels. Three unicorns were born in Hong Kong within the span of two months this year, including Animoca Brands from Cyberport, reflecting investors' confidence in Hong Kong's start-ups."
He continued, "At the same time, the National 14th Five- Year Plan has clearly raised the support for Hong Kong to develop into an international innovation and technology centre. Coupled with the vigorous development of the Greater Bay Area, we believe that Hong Kong's venture capital atmosphere will become increasingly encouraging. More high-quality start-ups will attract more funding to help Hong Kong develop into an innovation and technology hub. Cyberport will continue to forge ahead through CVCF and the Cyberport Investor Network (CIN), to actively promote the venture capital ecosystem, and facilitate the integration of industries into the promising overall development of our country."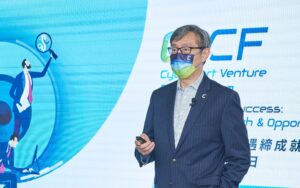 Peter Yan CEO Cyberport
Other spotlight events
Spotlight events of the CVCF 2021 will provide in-depth analysis of the development and opportunities of particular industries, the highlight being the first "Cyberport FinTech InnoCon 2021" hosted by Cyberport. The conference will feature over 30 heavyweight speakers from professional bodies, renowned financial institutions, regulators, and the most promising start-ups, to exchange insights on trends and opportunities in all areas of financial services with the FinTech PoC Subsidy Scheme. Topics to be examined include opportunities in the Greater Bay Area, value creation through ESG, RegTech for Asian markets, untapped opportunities in InsurTech etc.
The Edventures Global Business Acceleration Summit (Edventures GBA Summit) last year was universally well-received. Cyberport is pleased to co-create this Summit together with Esperanza again this year. It will be held alongside internationally renowned venture capital event Silicon Dragon. "Under the theme of Think Big with EdTech, the Summit will discuss how technology could transition from enabling remote learning during the pandemic to driving innovations for 21st century learning," said John C Tsang, Founder of Esperanza.
Experts will also share recent developments in EdTech hotbeds. Bill Ning, founding partner of Blue Elephant Capital, will address the implications of the recent regulatory changes in the education market in Mainland China. James Tieng and Vinit Sukhija, specialist EdTech VCs from Lumos Capital and Learn Capital in the US, will share how private and philanthropic capital is increasingly deployed in the US and Europe to fund EdTech ventures. Summit audiences will also learn how Israel and Finland build a vibrant education innovation ecosystem, from Avi Warshavsky, CEO of MindCET, Olli Vallo, CEO of Education Alliance Finland and Mia-Stiina Heikkala, project leader of NewCo Helsinki.
Twelve finalists of the Edventures GBA Fellowship 2021 from Israel, Sweden, the United Kingdom, the United States, Canada, India, and Hong Kong, will also share their EdTech solutions. They are looking for pilot opportunities and partners to support their expansion into Asia.
In order to further enrich the forum's industry and market insights, a series of webinars will be held on CVCF's online platform, starting next week. Industry leaders will share their insights and fresh perspectives on smart investment and digital transformation and help enterprises pivot in the new normal.
For detailed information on related seminars and a complete lineup of speakers of the Cyberport Venture Capital Forum 2021, please visit the website: http://cvcf.cyberport.hk/
For members of InnovatorsClubAsia® and InvestorsInnerCircle contact us for special benefits and discounted tickets: membership@innovatorsclubasia.com