CVCF starts November 3 – listed event of HKFintech Week 2020
This year CVCF2020,will be a virtual event and livestreamed on November 3-4. It is an official listed event of HKFintechWeek 2020.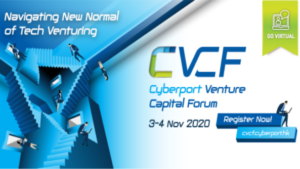 CVCF 2020 will discuss the latest tech venturing trends and outlook – the geopolitical impact on funding strategies, cross-border capital flow, China-US trade war reflections, Asia's new powerhouse, and what drives the next smart deal opportunity.
Hear from 60+ international and local experts and join the exclusive Investor Matching, Innovator Showcase and industry networking. This year, CVCF will co-present The Edventures Global Business Acceleration Summit together with Esperanza to look into the developments and trends of the ed tech market.  Silicon Dragon 2020 will also join as spotlight events of CVCF to explore more tech venturing dynamics. Connecting capital, innovation, entrepreneurship and growth – the region's signature venture conference provides a strong line-up of speakers including:
Dr George Lam, Chairman, Cyberport
Mr. Alfred Sit Wing-hang, JP,Secretary for Innovation and Technology, Government of the Hong Kong Special Administrative Region
Ms Irene Chu,Partner, Head of New Economy and Life Sciences, Hong Kong, KPMG China
Prof Julia Prats,Academic Director, Entrepreneurship and Innovation Center, IESE Business School
Mr Gary Rieschel,Founding Managing Partner, Qiming Venture Partners / Shanghai, Seattle
Mr Michael Yao,Senior Vice President, Head of Corporate Finance, Alibaba Group
Mr Fady Abdel-Nour,Global Head, M&A and Investments PayU-Prosus
Ms Estefania Almeida,Global Portfolio Manager, Brinc
Mr Simon Auyeung,Vice President, HashKey Digital Asset Group
Ms Karena Belin,Co-founder & COO AngelHub
Mr Drew Bernstein,Co-Chairman, Marcum Bernstein & Pinchuk
Mr Eric Chan,Chief Public Mission Officer, Cyberport
Mr Chin Chao,CEO, InnoVen Capital Singapore Pte Ltd
Mr Alexander Chan,Co-Director, The Mills Fabrica
Ms Lorna Chen,Asia Regional Managing Partner and Head of Greater China, Shearman & Sterling
Ms Lulu Chen,Asia Investing and Real Estate Team Leader, Bloomberg
Mr Sammy Cheung,Founder, President & CEO of Efinix Inc
Dr Jeffrey Chi,Founding Partner, Vice Chairman Vickers Venture Partners
Mr Duncan Chiu,Co-Founder & Managing Director, Radiant Venture Capital
Ms Peggy Choi,Founder & CEO, Lynk
Prof Tina Choi,Executive Director – Global Venture Development, Pan Asia Venture Development Platform; Adjunct Assistant Professor, CUHK Business School
Mrs Cindy Chow,Executive Director, Alibaba Hong Kong Entrepreneurs Fund; Chairperson, Cyberport Investors Network (CIN) Steering Group
Ms Fiona Chu,Senior Consultant, Global Specialist Practice, AWS Professional Service, Amazon Web Services
Mr Alistair Duff,Head of APAC, SIX Digital Exchange
Dr Erika Evasdottir,Managing Director, Centrium Advisory Services Limited
Ms Rebecca A. Fannin,Founder, Silicon Dragon
Mr Alan Fung,Partner, Asia GreenTech Fund
Mr Matthew Greenfield,Managing Partner, Rethink Education
Mr Tucker, Highfield,MD, Co-Head of Asia Pacific Equity Capital Markets, BofA Securities
Mr Karim Hirji,SVP & Managing Director, Intact Ventures
Mr Perkins Ho,Senior Business Development Manager, Hong Kong and Taiwan Strategic Programs, Amazon Web Services
Mr Manoj Jain,Co-CIO and Co-Founder, Maso Capital
Ms Soo Boon Koh,Founder & Managing Partner, iGlobe Partners
Mr Belton Kwong,Solutions Architect, Amazon Web Services
Mr Carlos Lam,CEO, Macao Young Entrepreneur Incubation Centre
Mr Edmond Lau,Managing Director, Lingfeng Capital
Mr Jay Law,Strategic Account Director, R3
Ms Venus Lee,Managing Director, Economic Digest
Mr Kelvin Lei,CEO & Co-founder, AQUMON
Mr Aron Leung,Former Transaction Advisory Partner, RSM Hong Kong
Mr Eddie Law,Chairman, Zheng He Capital Management Limited
Ms Judith Li,Partner, Lily Asia Ventures
Ms Ivy Li,Executive Director & Founder, Wildfaces.AI
Ms Qing Li,Co-Founder & CEO, Redsip
Mr Ken Lo,Co-Founder & Chief Strategy Officer, HKbitEX
Mr Mark Mak,CTO, Roborn
Mr Bill Ning,Founding Partner, Blue Elephant Capital
Mr Jeffrey Paine,Founding Partner, Golden Gate Ventures
Ms Crystal Pang,Co-Founder & CEO, Pickupp
Ms Relena Sei,Chief Executive Officer, Jumpstart Media
Mr Martin Tang,Partner, Genesis Alternative Ventures
Mr Simon Tang,Co-Founder & Chief Knowledge Officer, HK Decoman Technology Limited
Mr Tony Verb,Managing Partner, GreaterBayX
Mr Ivan Wong,Managing Director, Deloitte
Mr Sum Wong,Co-founder and CEO, EventXtra
Ms Tina Wei,Senior Advisor, Oceanpine Capital Limited
Ms Mavis Wu,Project Director, Hong Kong Inno Angel Fund
Dr Sue Xu,Managing Partner, Amino Capital
Ms Edith Yeung,Partner, Race Capital
Mr William Yeung,Co-founder & CEO, MediConCen Limited
Mr Albert Yip,Chairman of Wealth-Tech Committee and Convenor of Investment Committee, IFTA
Ir Andrew Young,Associate Director (Innovation), Sino Group
Mr Timothy Yu,CEO, Snapask
Mr Josh Zhou,Investment Partner, Head of APAC Investment, LEGO Ventures
Ms Joyce Ng,Investment Director, Cyberport Macro Fund
Mr Rico Tang,Senior Manager, Blockchain and RegTech Lead, FinTech Cluster, Cyberport
This year's programme can be accessed here:
https://cvcf.cyberport.hk/programme/rundown/year/2020
You can register for free for this event here:
https://cvcf.cyberport.hk/registration/
Innovation Hong Kong is proud to be a supporting organisation of CVCF2020 again this year in a newly delivered format.