"Brain"- an AI platform that redefines eCommerce interactions
Rezolve AI Limited, announced the introduction of 'Brain'- a transformative AI platform, late last month (July 2023). The UK company has developed a product discovery engine that redefines eCommerce interactions. By harnessing proprietary sophisticated algorithms, advanced machine learning, and natural language processing, Brain behaves like a highly knowledgeable sales assistant, armed with unparalleled product information and insight.
Developed by an expert team at Rezolve led by Dr Salman Ahmad, this  development promises to catalyse a new era of eCommerce interaction and data analysis. Brain is designed for businesses, consumers, and academic institutions to ingest and analyse their own proprietary content focussing on product catalogues but not restricted to them.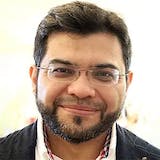 Dr Salman Ahmad
The adaptable Brain functions integrate seamlessly with existing systems across a wide array of industries, promoting a seamless transition into the innovative AI era. The functionalities of Brain can be tailored to suit specific needs, from enhancing customer service interactions to optimising returns management and refining after sales support.
With Brain, consumers can engage eCommerce sites conversationally, asking detailed queries and receiving responses that exhibit deep product understanding and relevance. These interactions can be carried out in any of 95 different languages allowing instant interaction regardless of nationality and retail store. This approach to product discovery and customer interaction revolutionises the eCommerce landscape, offering a level of personalised service.
When visiting the website InnovationHongKong|innovationasia learned that Brain can be added to a website by copying and pasting a short code snippet.
Dan Wagner is the Chairman & CEO of Rezolve and an eCommerce veteran and serial entrepreneur. He said "from the early 90s I have been working with the very best minds from Cambridge University in shaping computer-aided text and image retrieval. Brain is the culmination of decades of sophisticated British technical engineering and Brain today leads the world in Natural Language Processing and Large Language Models engineered for commerce."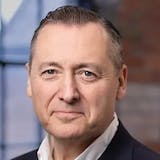 Dan Wagner Chairman & CEO
Michelle Donelan, Secretary of State for Science, Innovation, and Technology added, "Rezolve's Brain is yet another example of great British AI innovation. AI has the potential to transform our public services, create better jobs and grow our economy. Alongside our global leadership on AI safety, the Department of Science, Innovation and Technology is driving innovation throughout the UK, creating the environment for companies to start-up and grow."
"Rezolve's conversational AI offering – Brain – is perfectly aligned with the changing trends in the retail industry and has the potential to be a game-changer. Not only is it enhancing the consumer experience and driving business growth, but it also delivers real-time insights using Data & AI/ML (machine learning), at scale. Brain is at the vanguard of AI developments based on distributed computing, federated data architecture, effective AI/ML models and an open API interface providing a plug & play experience for B2C & B2B customers and their ecosystems," commented Saurabh Chandra, Managing Director of Boston Consulting Group's Platinion.
Pictures: Rezolve AI Limited