BIOHK2022 – December 14-17, 2022
BIOHK 2022 is an international convention and exhibition organized by HKBIO to introduce novel state-of-the-art biotech innovations from around the globe. It will cover the latest topics in biotechnology from infectious diseases like COVID-19, to the latest cancer treatments and diagnostics to big data analytics.
It is an official event in Celebration of the 25th Anniversary of the Establishment of the HKSAR . The event takes place from December 14-17, 2022 at the Hong Kong Convention & Exhibition Centre. More than 300 exhibitors and an estimated 7,000 visitors are expected to join the convention which will gather global pioneers in biotechnology, medical, healthcare, entrepreneurs and investors from diverse disciplines.
There are three components of the event:
Exhibition with the most innovative and freshest voices from the industry.
Conference & Pitching sessions – the latest trends and research findings.
One2One partnering platform – new contacts for collaboration and investment.
Our innovation audience is able to register by this link: https://www.bio-hk.com/registration-form/  and choose " Commercial " and then enter the discount code  " INNOVATIONHKX70 " to get 30% off for 4 day full access pass.
To see what is happening at the conference over the four day event: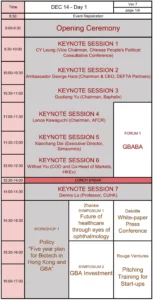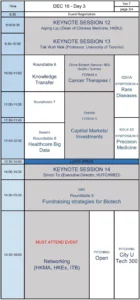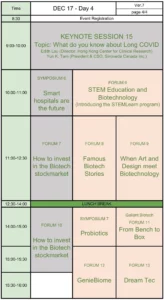 We have some fully complimentary passes  to give away so if you are interested please email us now cs@innovationhongkong.com
See you there !