AI banking-as-a-Service to launch lending services
AIZEN, a leading provider of banking-as-a-service platform, has partnered with companies in Southeast Asia including leading e-commerce in Indonesia and an e-wallet platform in Vietnam to provide an Automated Banking Operating System (ABOS) focusing on lending.
While some of the big tech giants have launched their own Fintech verticals, there are many brands that are also increasingly looking to offer financial services to their customers. These companies tend to partner with existing financial institutions and resell their financial products, but many fail to offer a seamless onboarding experience – mainly due to partner banks' legacy processes.
Embedded finance, as opposed to reselling financial products, is becoming more attractive to brands. It enables any non-financial companies to integrate innovative financial services into their offerings. This creates new revenue opportunities at low marginal costs for the brands that already have a large customer base and, enables new customer experiences that drive loyalty and purchases.
AIZEN is working with balance sheet providers (both banks and non-banking entities) and will act as an intermediary for all other processes related to the end-to-end credit lifecycle. ABOS (Automated Banking Operating System)is built on a robust risk management framework that automates the core operations from product design, credit acquisition, portfolio management and collection, and allows banks and brands to take proactive measures on the economic downside risks amid COVID-19.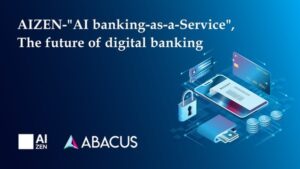 According to the latest report by Google, Temasek and Bain & Company, digital financial services in Southeast Asia are expected to generate revenues of about USD 38 billion by 2025. Digital lending has also gained momentum as the "contactless economy" continues with the COVID pandemic and, will offer the majority of revenue opportunities.
For traditional lenders, the absence of credit history has meant a limited risk appetite for lending to this segment. Using proprietary AI technologies, AIZEN is able to better underwrite customers by converting non-traditional sources of data into credit-related data in finance. This is powered by ABACUS, an AutoML platform in finance that is specifically designed to accommodate the fast-changing customer dynamics in real-time.
The company has been working on digital transformation projects with financial institutions including loan underwriting, transaction fraud detection, and insurance claim analysis since launching in 2016. It has been optimizing the solution with access to Intel's latest technology and engineering expertise, as a member of Intel's AI Builders Program.
AIZEN has recently raised funds from KGIC, also known as K-Growth, led by major banks including KB, Shinhan, Woori and NH. KGIC is a government-led fintech innovation fund. The company's total funding has increased to USD 10 million including USD 3.5 million in R&D grants.
Jung Seok Kang, CEO at AIZEN commented, "We will strategically expand our banking service with our AI operating model and will service our new AI-powered banking model in Vietnam, Indonesia, Singapore, and Taiwan."