SIPBN Global Tech, Innovation and Capital Summit 2022 (CapTech 2022)
Connecting projects, ventures, scale-ups, entrepreneurs and businesses with the brightest minds, capital and opportunity.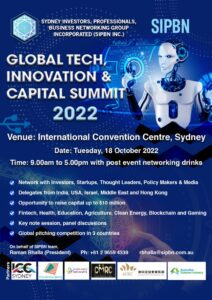 Sydney Investors, Professionals and Business Networking Group (SIPBN Inc) presents a Global Summit at Sydney's International Convention Centre, connecting movers and shakers from the business world on October 18, 2022. InnovationHongKong® is proud to be a partner of this global event.
The event will focus on the following sectors:Health, Education, Agriculture, Sustainability, Fintech & Blockchain. The finals of a global pitching event will be held as part of the programme.
Programme
Pre-event – Networking and introductions
17 October 2022 –Delegation reception drinks at NSW Parliament House
Global Summit Event- 18 October 2022
9 am – Welcome with a keynote address and panel discussion on the state of markets
10.00 am– Financing of health and healthcare technology
10.45 am– CMRC Morning Tea
11.00 am – Education, technology and the role of capital
11.50 pm- Global perspective on Agri-tech and investment trends
12.40pm – Lunch
1.20 pm- Investment in Sustainability
2.10pm- Afternoon tea
2.35 pm- Fintech in Blockchain, Web 3, Artificial Intelligence
3.15 pm – Global Startup Competition Finals
Witness the final round of the global pitching competition, with entrants from India, Hong Kong and Australia all vying for the winning place to raise up to AUD10 million in the capital.
5 pm – Post-event drinks
The conference will gather the brightest minds, industry leaders, ventures, technology and capital from Australia and globally.
Industry Leading Speakers & Panellists
The Hon Paul Fletcher MP – Federal Member for Bradfield – Manager of Opposition Business in the House, Shadow Minister for Government Services and the Digital Economy, and Shadow Minister for Science and the Arts
The Hon Victor Dominello MP – Minister for Customer Service and Digital Government, Minister for Small Business, and Minister for Fair Trading
ANTHONY F SHEPHERD – AO
Dr Harinath – Emeritus Chairperson of Multicultural NSW
Dr Charlie Teo – Charlie Teo Foundation
Mr Joseph Rizk AM – CEO & Managing Director of Arab Bank Australia
Stephen Halmarick – CBA Chief Economist
Kerry Chikarovski – Founder and Director of Chikarovski & Associates, Businesswoman and Former Leader of NSW Liberal Party
Michael Rodrigues- 24-Hour Economy Commissioner, Investment NSW
Dr Catherine Bennett – Chair in Epidemiology within Deakin's Institute for Health Transformation
Michael Sharpe – National Director of Advanced Manufacturing
Mark McCrindle – International Social Researcher
Dr Jim Taggart – Education
Dr Sandra Krishnan – Leading Breast Surgeon, Clinical Associate Professor, Australian Medical University
Dianne Tipping – Chair Export Council of Australia
Michael Masterson – Managing Director, EverEdge Global
Dr Lori Modde – CEO of Australian Outdoor Industry
Stephen Harrison – B.Ec, CPA
DD Saxena – Leading Australian Businessman
Dr Nicole Brooke – CEO of Australian Community Industry Alliance (ACIA)
Rajeev Gupta – Partner – Alium Capital
Simon Cant – Co-Founder and Managing Partner of Reinventure
Matthew Watson – Managing Partner, Bridge Impact Capital
Melissa Monteiro – CEO CMRC
Bina Gupta – Founder and CEO of InnovationHongKong®
Christopher Peralta – Founder/CEO Silicon Valley HQ
Anuraj Gambhir – Strategic Business and Start-Up Advisor
Connie Carnabuci GAICD
Clive Mayhew – Chair – Fishburners
Heath Behncke – Managing Director, Portfolio Manager, Holon Global Investments
Lisa Wade – CEO of DigitalX
Ms Bonnie Shek, Director, Australia/New Zealand Hong Kong Trade Development Council
Richard Yuan, Chair – ACE Club, CEO of ABC World
This is an ideal opportunity for :
Exposure to Australian and global business, Government, start-ups, investors, policymakers and industry bodies
 networking and business/project match-making
 To raise up to AUD $10 million capital for your ventures
 Partnerships, collaboration, joint venture, mergers/acquisitions
Join 300 in-person attendees and a 10,000+ online audience for this game-changing event…but hurry tickets are selling fast !
Global Summit Corporate tables of 10 for $4,500
Delegation Networking Drinks at NSW Parliament House
Hosted by The Hon Victor Dominello MP – Minister for Customer Service and Digital Government, Minister for Small Business, and Minister for Fair Trading.
Tickets: $195
Post-event Networking Drinks and Private Invite only Dinner
Project and business match-making sessions with one-to-one meetings with government bodies, businesses, investors, participants and senior business leaders.
For ticketing to events and pre-event cocktails please click on the link here:
https://www.eventbrite.com.au/e/global-tech-innovation-and-capital-summit-2022-tickets-368749308107