NEXTDC announces its first data centre in Malaysia for Asia expansion
NEXTDC Limited (ASX:NXT), a leading Australian data centre as a service provider announced its first data centre development in Kuala Lumpur (KL1), a new, world-class data centre facility right in the heart of the Klang Valley metropolitan region, the cultural, financial, and economic centre of Malaysia.
NEXTDC is an ASX 100-listed technology company enabling business transformation through innovative data centre outsourcing solutions, connectivity services and infrastructure management software.The company has a focus on sustainability and renewable energy.
Once completed, KL1 will be the first Uptime Institute (UI) Tier IV certified data centre facility in Peninsular Malaysia. Strategically located in Petaling Jaya, the KL1 site is less than 10km from the centre of the Malaysian capital Kuala Lumpur as well as being close to major network and business hubs in Klang Valley. The facility is designed to scale rapidly and will grow to approximately 65MW of IT critical power coupled with direct cloud interconnectivity. The centre will welcome customers into the facility from 2025.
KL1 represents NEXTDC's entry into Asia, which includes some of the largest and most rapidly growing data centre markets globally. NEXTDC considers Malaysia an optimal market for its first step into Asia, with its rapidly growing demand for quality data centre solutions, increasingly sophisticated digital economy, high data consumption per capita and increasing adoption of cloud-based technologies.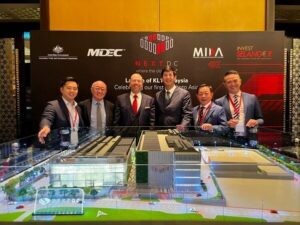 Using Malaysia as the regional hub for its Asia expansion, NEXTDC will also develop a new Regional Operations Center for multidisciplinary staff to support growth across the Asian region. This will create the potential for continued investment in the region with many Asian economies experiencing similar strong underlying economic tailwinds as well as rapid take up of digital services.
Over the next 5 to 10 years, NEXTDC will invest approximately RM3 Billion (approx. USD685 million) in Malaysia and will also commit to digital skilling and educational initiatives to help empower Malaysia's ICT and digital workforce to drive Malaysia's competitive advantage in Asia.
Yang Berhormat Senator Tengku Datuk Seri Utama Zafrul Tengku Abdul Aziz, Minister of Investment, Trade and Industry (MITI) said, "We welcome NEXTDC's decision in selecting Malaysia as its new investment destination beyond the Oceania region. This reflects confidence in our investment and business ecosystem, reaffirming Malaysia's growing reputation as a premier data centre investment destination and our position as a preferred digital hub in Southeast Asia. As a supportive component of a digital economy, NEXTDC's strategic initiative is also well-aligned with our New Investment Policy, which aspires to create a more sustainable, balanced and inclusive socio-economic growth moving forward. MITI and its agency, MIDA are committed to facilitating the success of NextDC's strategic initiative in Malaysia, particularly towards helping us create higher-paying jobs and a more vibrant domestic SME supply chain."
Commenting at the official launch of NEXTDC's Malaysian operations, Malaysian Minister of Communications and Digital, Yang Berhormat Tuan Ahmad Fahmi Bin Mohamed Fadzil said, "Malaysia is recognised as the premier destination for data centre investment in Southeast Asia. Our strategic location, stable political environment, and robust digital infrastructure have solidified our position. With NEXTDC's investment in Malaysia, we take a significant stride towards establishing our nation as the definitive digital hub of ASEAN."
"The Malaysia Digital (MD) national strategic initiative is propelling our digital capabilities and enhancing our value proposition to attract digital investments, ultimately boosting the digital economy. Together with the Malaysia Digital Economy Corporation (MDEC), we will fully support NEXTDC's presence and the growth of our data centre industry through various PEMANGKIN initiatives. By unveiling their new data centre campus, NEXTDC not only reinforces Malaysia's digital infrastructure but also accelerates our ongoing digital transformation. This move reflects the unwavering confidence in our robust and empowering data centre ecosystem, digitally skilled talent pool, and world-class infrastructure," he added.
Chief Minister of Selangor, Yang Amat Berhormat Dato' Seri Amirudin Bin Shari also noted, "The State Government of Selangor is fully committed to support high impact investors like NEXTDC. In Selangor, we are committed to continuously streamline business processes to improve the ease of doing business. When businesses flourish, workers and their families flourish. This is the key to improve the quality of lives for Selangorians and we are confident of working with the business community to realise this.
Highlighting the support of the Australian Government for this initiative,  the Australian High Commissioner to Malaysia, His Excellency Dr Justin Lee said, "NEXTDC's RM 3 billion investment in Malaysia reflects the close and growing economic partnership between Australia and Malaysia. Digital economy cooperation is a priority under the Australia-Malaysia Comprehensive Strategic Partnership. NEXTDC's entry into Malaysia and the broader Asian market is a major milestone, boosting Malaysia's digital economy ambitions by investing in the critical infrastructure and skills to attract major tech companies."
CEO of NEXTDC, Craig Scroggie [host of the event] said, "The development of the KL1 data centre, and the establishment of our new Regional Operations Centre are exciting new frontiers for NEXTDC in Asia, and we are delighted to be making these investments in the Malaysian digital economy. The new KL1 facility will feature world leading sustainability benchmarks and critical infrastructure standards. This special occasion marks the initiation of NEXTDC's regional expansion throughout Asia, and we are excited about the contribution these strategic investments will make to shaping the future of digital infrastructure and creating a wealth of technology job opportunities in Malaysia and beyond."