Modernising its fleet and enabling new destinations in future: Fiji Airways
As part of a journey to modernise the National Carrier's fleet, Fiji Airways has  taken delivery [August 2023] of its newest Airbus A350-900XWB (A350). The brand new aircraft, is the third A350 to join the Fiji Airways fleet which is considered the world leader in long-range flights.
Named the Island of Beqa, it will add more capacity to Fiji Airways' leading source markets of Australia and New Zealand, as well as increase capacity for long haul flights to San Francisco and Vancouver, and Hong Kong which is the airline's current gateway to China.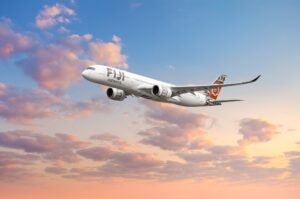 Fiji Airways A350
Founded in 1951, Fiji Airways Group comprises of Fiji Airways, Fiji's National Airline and its subsidiaries: Fiji Link, its domestic and regional carrier, Pacific Call Comm Ltd, and a 38.75% stake in the Sofitel Fiji Resort & Spa on Denarau Island, Nadi. Fiji Airways rebranded from Air Pacific in June 2013.
Mr Andre Viljoen, Company Managing Director and Chief Executive Officer, says one of the airline's five 'Game Changer' Strategies relentlessly pursued since 2017 has been the modernization of its fleet, with 'new generation' aircraft such as the Airbus A350.

       Andre Viljoen, Managing Director & CEO
Mr Viljoen stated, "The A350 with its superior cabin, significant fuel savings and substantial cargo capacity has fast become the pride of our airline and the joy of our passengers. The Island of Beqa is brand new, having been put into storage immediately after manufacturing. We were able to negotiate a lucrative deal to acquire it. It combines the very latest aerodynamics, new generation engines and use of lightweight materials, to bring a 25% advantage in fuel burn, carbon dioxide (CO2) emissions and operating costs compared to previous generation aircraft."
He added that the airline is now in a stronger position to explore new destinations."Fiji Airways brings in 70 percent of all visitors to Fiji. We are crucial to the long term sustainable growth of the tourism industry which is 45 percent of our Gross Domestic Product and the largest employer in the country. As the National Airline we recognize our role is not just to be the bridge to and from the world but to support the growth of tourism, one of the ways we can do this is by introducing new destinations with potential for high tourism opportunities."
These modern, state-of-the-art aircraft [A350 XWBs], are capable of flying much deeper into the United States or Canada.This enables Fiji Airways to explore new destinations much further than its current network. Some possibilities the airline is continually exploring for the future include Dallas, Seattle, Beijing, Shanghai, Seoul and also Noumea, Wallis, Rarotonga, Port Moresby and several additional destinations in Australia.
Currently (August 2023) from its hubs at Nadi and Suva International Airports, Fiji Airways and Fiji Link serve 108 destinations in over 15 countries (including code-share). Destinations include Fiji, Australia, New Zealand, the US, Canada, the UK, Hong Kong (SAR China), Singapore, India, Japan, China, Samoa, Tonga, Tuvalu, Kiribati, Vanuatu and Solomon Islands.
With regards to Hong Kong, Mr Viljoen remarked in another statement a few months ago that "Hong Kong has traditionally been a strong link for us as the main gateway into China. We are pleased with how well this market has picked up in a short amount of time [since the pandemic]. With these flights, Fiji Airways is able to carry goods between Fiji and China, improving trade and economic activity."
Fiji Airways has flights between Nadi and Hong Kong currently every Monday,Thursday and Saturday and will add Sunday services from October 2023.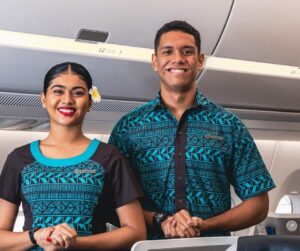 cabin crew
Picture Source: Fiji Airways