Hong Kong shines with its female entrepreneurs at She Loves Tech
On June 21, 2023, She Loves Tech held its Live Pitching Finals & Conference in Hong Kong at PMQ, where 10 aspiring female entrepreneurs presented their startups.InnovationHongKong|innovationasia was delighted to attend and, was inspired by the diversity of ideas being accelerated in the market.
She Loves Tech is a non-profit organisation that champions the best entrepreneurs through education and mentorship,working closely with partners to create a global ecosystem for women in technology and was founded in 2015. Leanne Robers and Rhea See, both co-founders were in Hong Kong with their team to launch the event for the first time in this market – and with great success.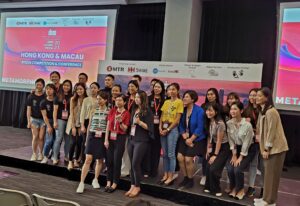 Winners & finalists with Co-founders SheLoves Tech,Leanne Robers & Rhea See & their team
She Loves Tech has made significant strides in closing the funding gap for women entrepreneurs and provides them with the resources and support they need to succeed in the tech industry. Since 2015, they have assisted over 13,000 startups in more than 70 countries, and their startups have raised over USD 350 million.
The ten finalists presenting were:
-KIBO ( sustainable footwear made made from recycled and responsibly sourced materials.)
-ElevateFoods Technology (patented 3D food printing and cooking technology)
-Studio Global ( campaign managed software)
-Allegrow Biotech (cell therapeutics with cancer solution)
-Bizibuz  (kids' after school activities booking & management platform.)
-Vivacity Limited (provides architectural planning, interior design, software tools, and community operation for the Metaverse via VR content)
-RaSpect Intelligence (Artificial Intelligence Building Inspection and Monitoring)
-WomenX Biotech (technology to enhance women's health and facilitate the diagnosis of women's diseases)
-Beauty Fact ( an online platform that empowers consumers to understand what ingredients are safe to use on their skin).
-InnoBlock Technology (software company focusing on carbon credit trade, carbon management & reporting, supply chain management and cybersecurity).
 Melody Jin Teng Allegrow                                Rowena Wong, Innoblock Technology Ltd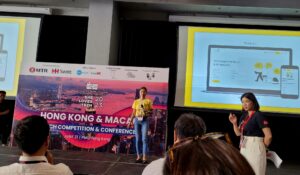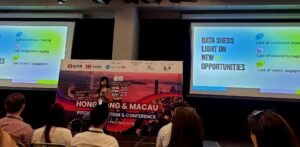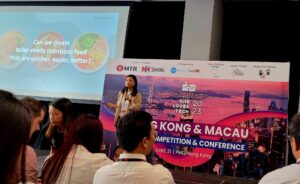 Cristy Almeida Bizibuz                      Jane Lee Vivacity                                      Connie Wong, ElevateFoods Tech
The esteemed judges included Carman Chan,Click Ventures; Fred Li, Gobi Partners GBA; Gene Soo, MTR Corporation;Joanne Mo, Swire Coca-Cola;Perkins Ho, AWS and Tristram Miners-Jones, Angel Hub.
Having had the She Loves Tech programme completed,the ten presentations were well presented and stuck to the time frame, which provided a well defined preview to all the audience and allowed judges time for  Q&A.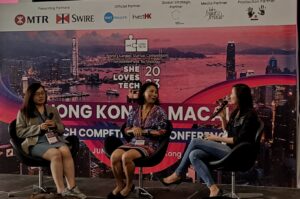 Panel session with Dr Florence Chan, Olivia Wong and moderated by Jennifer Mak
The event was produced by Branded who ensured that the programme ran smoothly and audience were kept engaged at all times.Whilst the judges were deliberating the packed audience listened to a heart to heart panel session entitled "A Successful Failure" which was moderated by Jennifer Mak, Infinitif Technologies and guest panellists Dr Florence Chan, Co- Founder of AI Guided and Olivia Wong, GM Environmental & Social Responsibility and an Angel Investor. Some great insights,candid thoughts and tips were shared with all in this final session of the day.
Winners of the Live Pitch & Finals were then awarded to:
Winner: Piu-Wah Choi, Founder of WomenX Biotech Limited
Second place winner: Natalie Chow, CEO KIBO
Third Place: Yolanda Au,Director & Founder, RaSpect Intelligence Inspection Limited.
Congratulations to the winners as well as the finalists.
                                                                                                   Winner: Pui Wah Choi WomenXBiotech Limited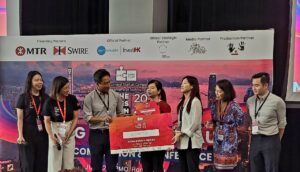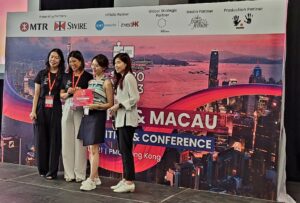 Second place winner: Natalie Chow, KIBO

                                                                                                3rd place winner: Yolanda Au, RaSpect Intelligence Inspection Limited
The event concluded with a lively networking event at Gustaci which was well attended courtesy of sponsors MTR Corporation with She Loves Tech.
This successful event should not be missed in future. We look forward to the next She Loves Tech in October in Singapore. If you want further information: https://www.shelovestech.org
                                                                                                            Catching up with Emma Fung COO, Branded