2nd Plant Based Foods Summit New Delhi
PBFIA [Plant Based Foods Industry Association] organised the dynamic 2nd Plant Based Foods Summit at Le Meridien, New Delhi on 25th May 2023. Industry leaders, entrepreneurs and investors gathered to listen, learn, collaborate, network and forge new business relationships – a resounding success.
The event was organised with the support of MoFPI [Ministry of Food Processing Industries], the Ministry of Agriculture, APEDA [The Agricultural & Processed Food Products Export Development Authority] and ICC [ Indian Chamber of Commerce]. It was a combination of conference and exhibition [CONFEX] with an investor pitch session and live cooking demonstrations as well as an Award Ceremony. The Summit is in its second year and was attended by more than 1500 delegates.
Executive Director, PBFIA, Sanjay Sethi with his capable team of Aditi Sharma, Medha Gupta, Indra Thiyagarajan and Narhari Gupta took on an enormous task of what was a much bigger event this year with many components. They managed to create quite a buzz providing so many opportunities for the burgeoning plant based industry not only in India but to expand globally.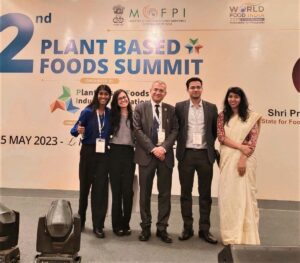 Executive Director PBFIA, Sanjay Sethi with his team
Immersive CONFEX and Awards
Presentations from experts in the plant-based foods industry talked about the latest trends and innovations and creating a sustainable future. They included Smt. Mercy Epao [Joint Secretary, Ministry of Micro, Small & Medium Industries], Dr Sudhanshu [Secretary APEDA], Jim Sutter [CEO, US Soybean Council], Jasmijn De Boo [CEO, ProVeg International UK], Amit Vatsyayan [Partner & Leader EY India] and more. An insightful report from Renub Research " Future is Green: Opportunities in the Plants based Food Sector" shed light on the potential in the industry.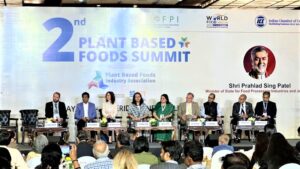 The Summit
An Awards ceremony recognised and celebrated many pioneers with their outstanding contributions and achievements in the industry. Guest of Honour and MP [Lok Sabha], Maneka Gandhi awarded the winners and presented them with plaques. More than 50 Awards were bestowed including:
the Best Plant Based Foods Entrepreneur 2023 to Mr Amit Bajaj, Founder of Vezlay Foods;
Most Innovative Plant based Food Company -Symega Food Ingredients Ltd;
Plant Based Food Disruptor – BVeg Food;
Innovative Plant Based Meat Company- Evolve Foods;
Plant Based Seafood- Seaspire™
and many more.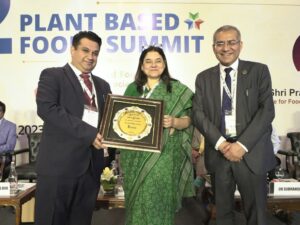 Amit Bajaj accepting the award from Maneka Gandhi & Sanjay Sethi
There were also live chef demonstrations of plant based recipes by renowned chefs in India inspiring the enthusiastic attendees with new products.
The exhibition showcased plant based foods, products, machinery and businesses innovating in the space from India and around the world. There was a definite buzz with many new collaborations and ideas generated from PBFIA bringing together so many in the industry for this second summit in Delhi, India.
Funding and the Challenge
There was a "Shark Tank" Style Investors Pitch Session where startups presented to global investors. They showed their support of many entrepreneurs trying to develop their brands /products and seeking funding at the event. The importance of profitability and support from Government was highlighted with an emphasis on sustainability and health as well as economic growth.
It was noted during panel sessions at the Summit that 70% of the Indian population has protein deficiency and, protein consumption from plant based sources needs to increase per capita to meet the minimum requirements.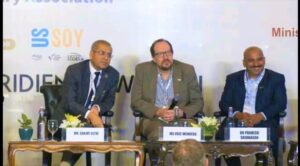 Panel Session
InnovationHongKong®|innovationasia® has a strategic collaboration with PBFIA